Plant Story is an online plant marketplace, officially launched in 2020. It has ALL the services that plant lovers need, including buy & sell plants, a community to talk about plants, plant identification, watering reminder, disease diagnose, plant care tips, etc. These utilities are not only useful, but also engaging. 1 million plant parents are purchasing and discussing about plants on Plant Story app every day. Our goal is to help people achieve happiness and wellness through gardening, and help gardening businesses thrive efficiently. Just download Plant Story app and you will have a beautiful room and garden, whether you are a new plant parent or an expert.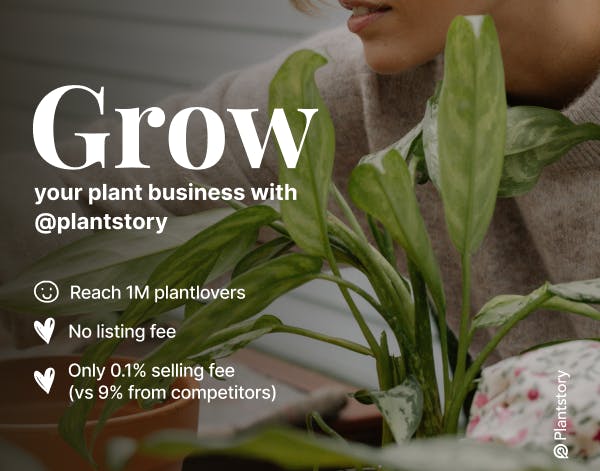 Why choose plant story?
Don't know where to buy plants?
Whether it's a common houseplant or a rare tropical plant, Plant Story marketplace has it all! We've found the best sellers in the United States to serve you. As a buyer, you will find great deals on Plant Story - sometimes giveaways! We are also committed to providing the highest quality plants, as well as a more responsive and professional problem solving customer service compared to other platforms.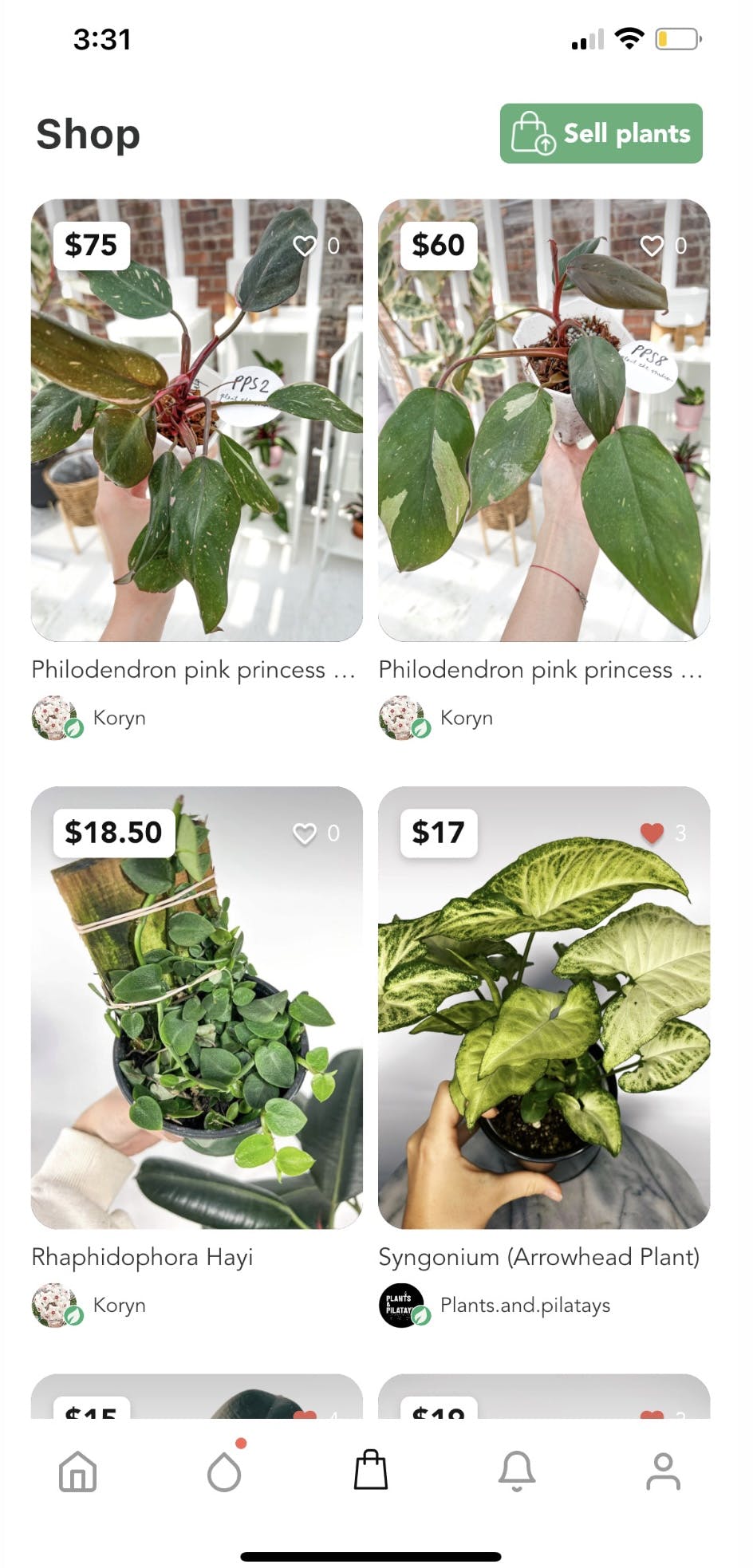 2. Find it too expensive and troublesome to sell plants on Etsy?
We all know Etsy charges high listing fees, and items are hard to get noticed if you don't pay for ads. More importantly, Etsy bans a lot of sellers and plants without any specific reason, and it takes a long time to reach their customer service and solve all problems. The exciting news is, Plant Story charges ONLY 0.1% selling fee (vs 9% from competitors), and we will never arbitrarily ban any plant sellers. Sellers are the 1st class citizens on Plant Story! We would make you a Trusted Seller if you're already experienced in selling plants, and all your listings would be pushed to the top on the marketplace. We also help advertise your shop on all our social media channels! (TikTok @plantsnstories 35K, FB Plant Group: @plantsnstories 85K, IG @dreamy_plantss 108K) Our team will help sellers go through the onboarding process, and provide the onboarding manual. We make it simple for shop owners if you provide us with a CSV file of your plants, from which we can create individual listings for you, to save your time while adding plants. Even though you already have a shop online, you will be able to reach our motivated audiences much easier. Not impressed yet? No problem! Our team is always there to help you. We guarantee the best service for sellers as well . You can always ask us for selling tips and advice.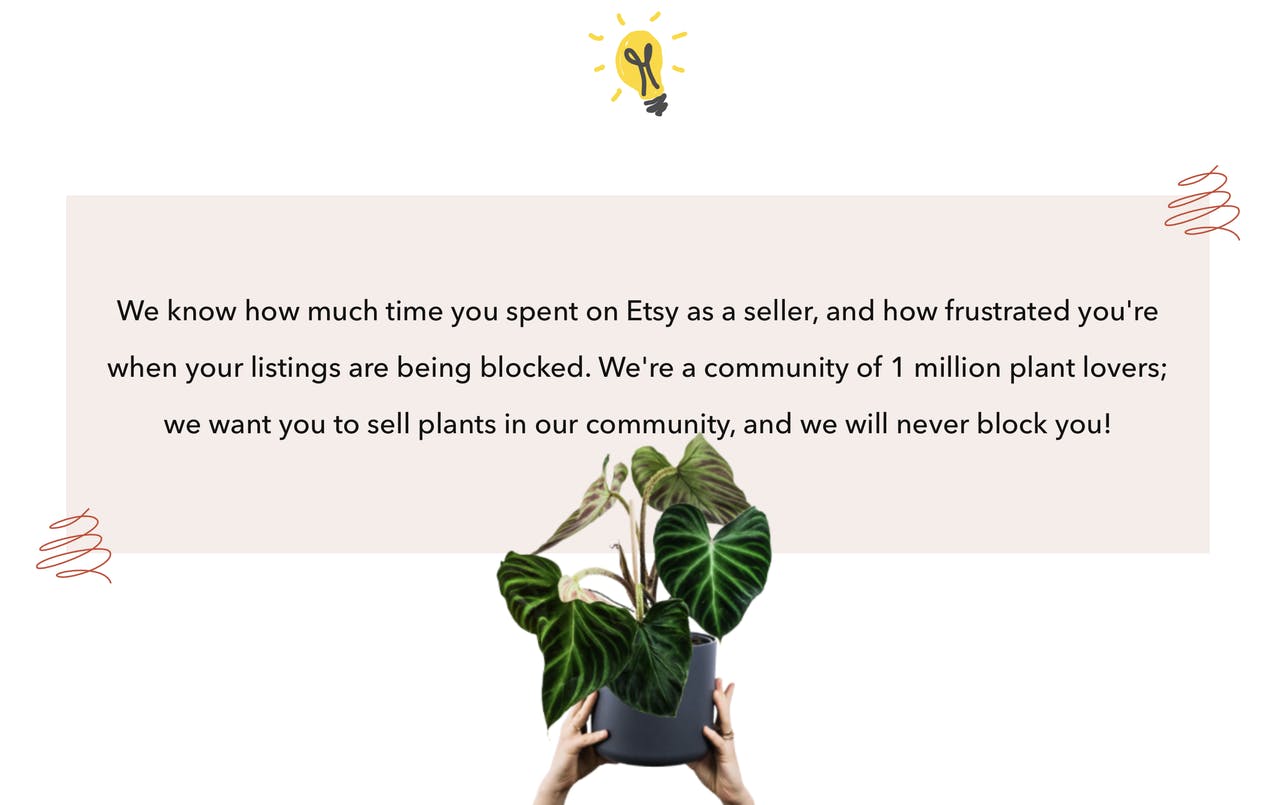 3. Don't know how to take care of your plants?
By downloading Plant Story app, you don't need to search for plant care knowledge on Google one by one. Plant Story is your intelligent gardening assistant. We built a one-stop platform for all digital gardening services: add your plants to your list and select your environment, for examples, are your plants indoors or outdoors? From which direction does the sun hit it? Plant Story will use these factors to tell you how to care for it and remind you to water it regularly.
4. Want to know what plant is it?
We have a huge and easily accessible plant database. Simply open Plant Story app, take a photo, it will tell you! If you like this plant, go to our plant marketplace, with one-click it will arrive your home later.
5. Want to share beautiful moments of your plants with like-minded people?
Plant Story is the world's largest gardening community. This community will provide you with care tips & connections with fellow plant lovers. Let's share your plant's photos here! Come see what plants others have kept! Meanwhile, we offer a place where gardening questions can be both asked and answered by both peer gardeners and experts, and an e-commerce business to help people get the plants & tools they need.
We believe everyone deserves a plant! Regardless of your plant knowledge, we can be your source of information, connection and inspiration as you develop your love of horticulture. We only sell eco-friendly products and our plants are grown from seedlings and shipped fresh from our loving nursery to your door.
Human beings have been gardening since 16th century BC. Plants provides people with not only food, but also fulfillments and happiness. With the popularization of smartphone, 5G network, and e-commerce, we have a unique chance to help 400M people worldwide to grow their happiness, through our plant marketplace & community!
Download Plant Story and follow us on IG, FB, TIKTOK!