Don't miss out on these top 10 trees to plant this spring!
These trees will grow for years to come and bring life and vibrance to your
landscape!!!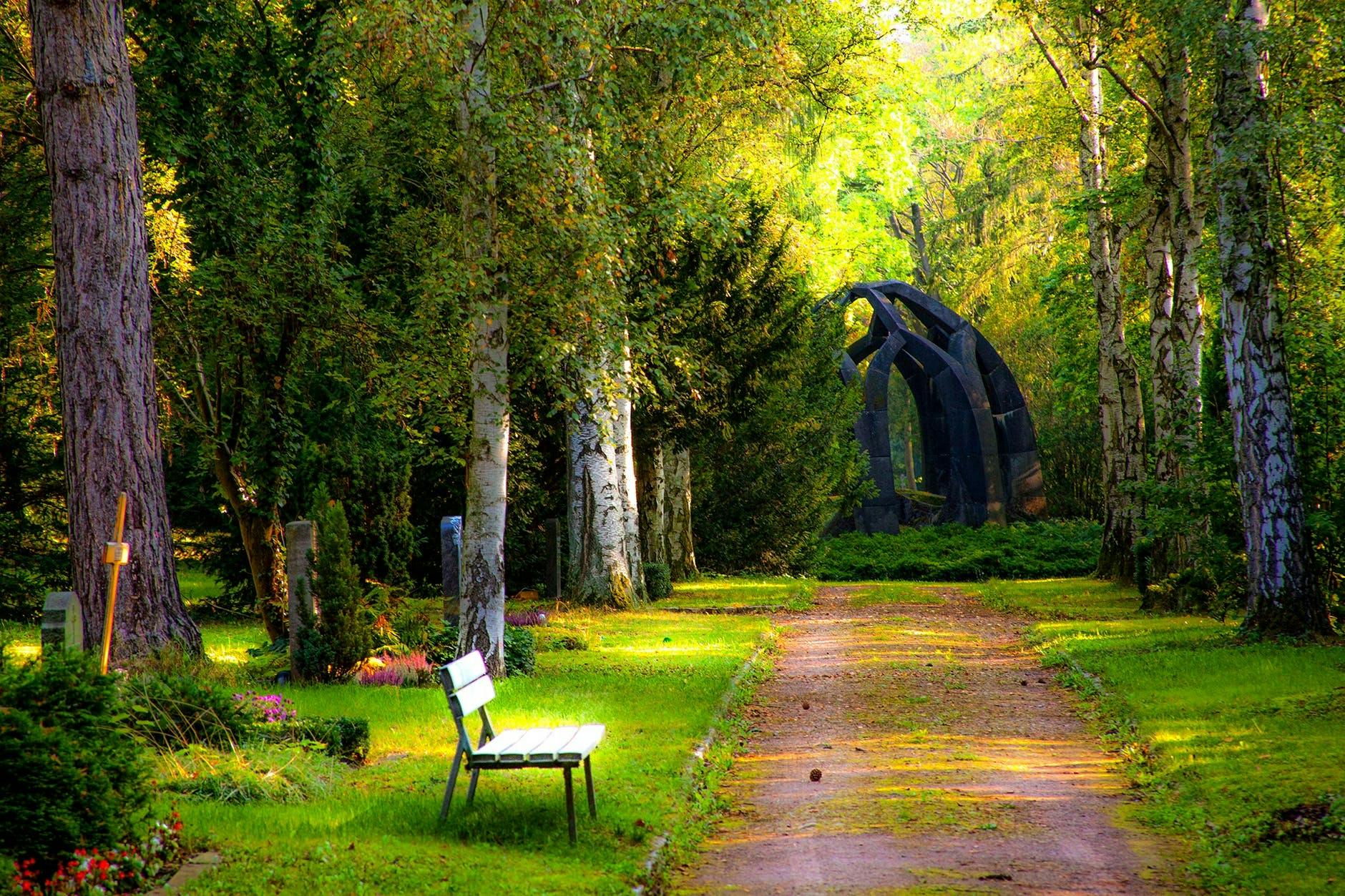 Trees surrounding a garden
Poplar (Populus)
Poplars are undoubtedly one of the more popular and exciting trees to have in anyone's yard. A
member of the willow family and the genus populus, these magnificent trees grow quickly and provide
foliage and shade for areas that would usually be bare. The fruits are small, thick-walled and contain
many minute seeds enclosed in hairs that resemble cotton. The cotton like hairs facilitate with the
dispersal of the seeds through the wind. Through this means, poplars can quickly populate large areas
in a few years. With heart shaped leaves that flutter in the breeze, these trees give a vibrant display of
synchronized movement with every wind gust. In the fall, the leaves turn golden and turns the trees
into great visual spectacles. It's no wonder why it's one of the most popular landscaping trees.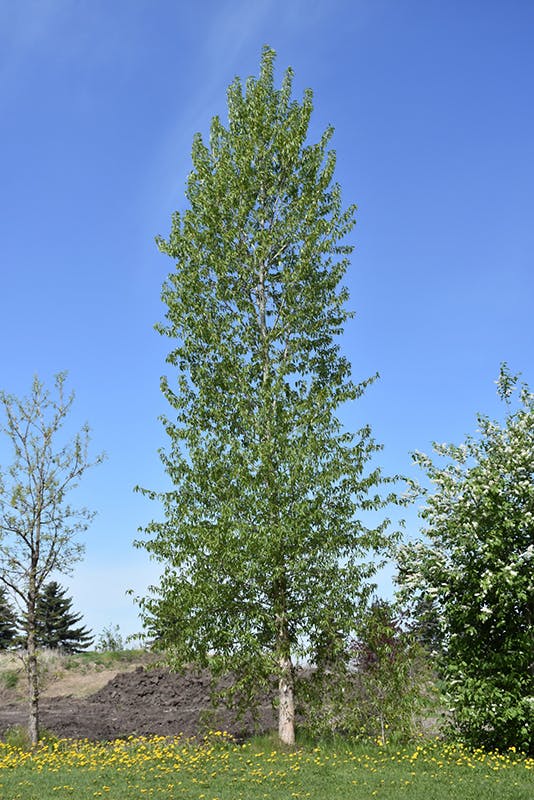 Mature Poplar Tree
Apple (Malus domestica)
When people think of apples, they generally think of the fruit that has been feeding civilizations for centuries.  It is with good reason since apples are trees that produce delicious fruits every year for the gardener.  Besides fruit in the fall, the tree also rewards us with bursts of beautiful flowers every year as a sign that spring has arrived.  Belonging to the Malus genus, apple's origins come from Central Asia.  It has spread world wide and used in all types of cuisines.  The crabapple, a wild species of apple tree, genus Malus, which generally yield small, bitter fruit (in comparison to domestic apples, Malus domestica) is used as a pollinator in orchards.  Also with apples being open pollinated, the seeds are almost never true to parent.  Therefore, many growers prefer to graft known varieties onto rootstocks in order to ensure the variety they grow is true and consistent.  With over 7,500 different varieties of apples, there is sure to be one that would please the gardener and their landscape.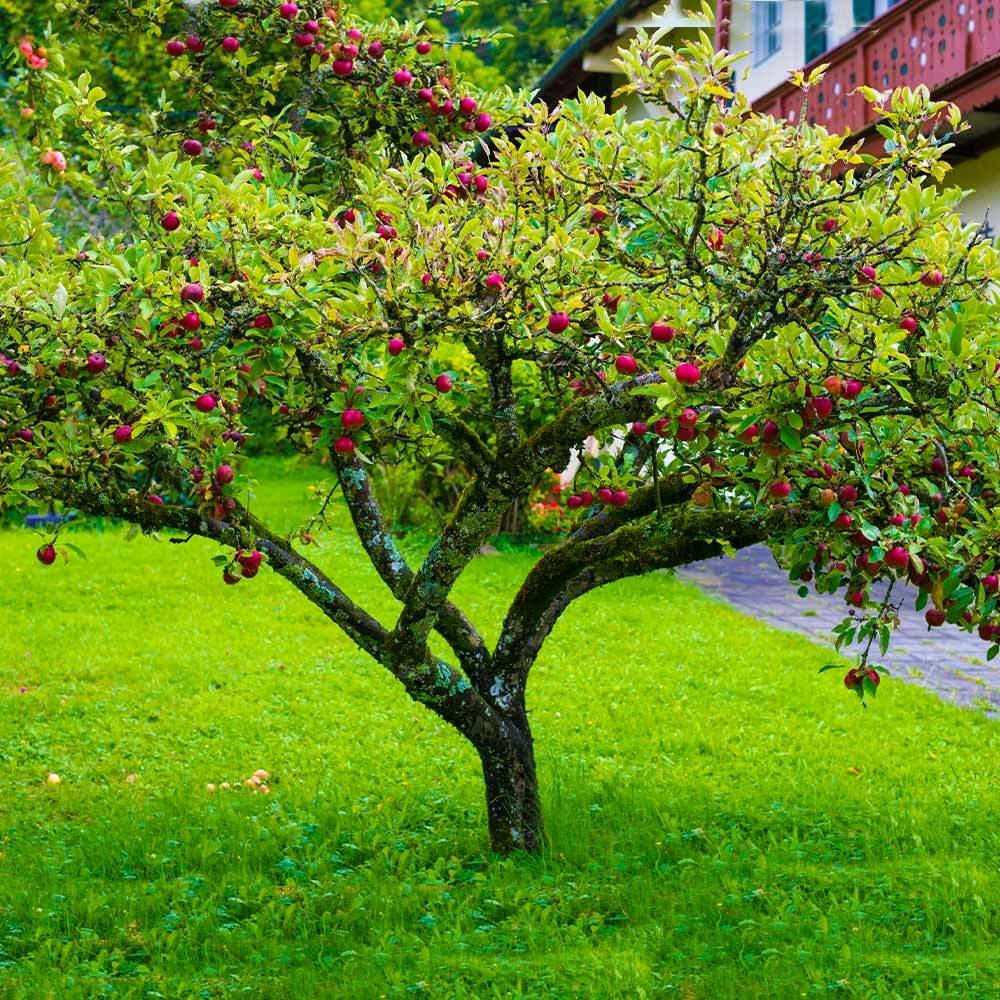 Apple tree loaded with fruits
Plum (prunus)
Plums are the fruit of the plum tree in the genus prunus originating from Europe and Asia.  The trees are medium-sized around 16-20 ft tall or more for standard sized trees. 
In the spring, these trees push out grand flushes of extraordinary flowers ranging from single white blooms to double blooms of pink and purple hues.  For fruiting varieties, the flowers are followed by growth of delicious fruits that normally ripen in early summer.  Fruits from these trees come in an abundance of sizes, shapes and colors and have a natural waxy surface sometimes covered with a dusty coating know as "wax bloom".  The skin ranges from yellow, pink, purple, red, green and many shades in between.  Flesh can be yellow, red or pink and normally bursting with juice and flavor.  The fruits are enjoyed through fresh eating, juices, preserves, dried or in dishes.  Being a stone fruit (fruits with flesh enclosing a stone/seed), it is related to peaches, almond, apricots and cherries.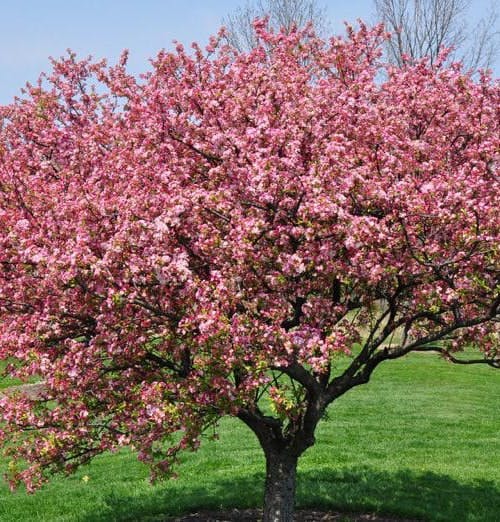 Flowering Plum Tree
Olive (Olea europaea)
Did you know you can grow olive trees in the landscape?  Native to the Mediterraean area, this tree dates back to 3000 BC.  It is a small evergreen tree growing from 15 to 30 feet tall, depending on the variety, and The leaves are small, leathery and a silvery grey-green color.  Humans have been growing, harvesting, and enjoying olives for thousands of years. It is an attractive ornamental, produces table fruit, and oil.  These are the common types used in the landscape, Arbequina, Kalamata, Mission, Picholine, Manzanilla and Amfissa.  Products that can be made from these include scent/cooking oils, cured olives, pastes, and spreads.  The health benefits of olive oil are widely known and olives and their oil are strongly suggested as an important part of a healthy diet. Olive trees are famous for their resistance to drought and harsh growing conditions and for their longevity.  Olive trees can thrive in a fairly wide variety of soil conditions with one important exception: they are completely intolerant of poor drainage.  They can be planted outside in the ground or in a pot as a houseplant.  Either, way it will definitely liven up the area they grow in.  They have a certain sophistication, as if you have just brought a tiny bit of Tuscany into your home.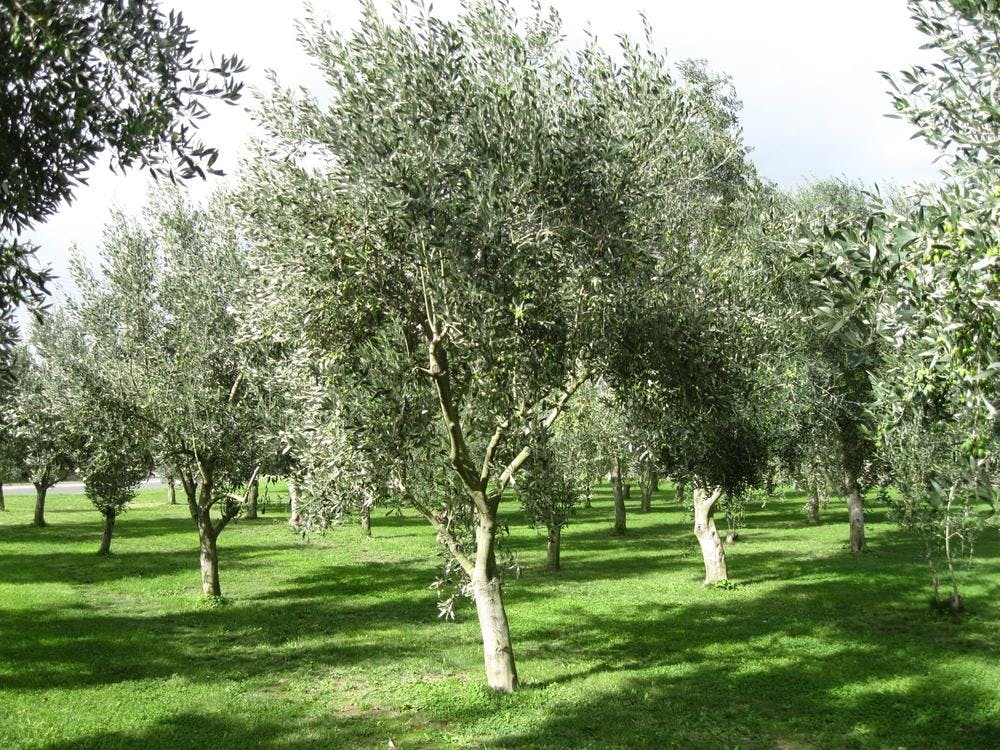 Grove of olive trees
Bradford Pear (Pyrus calleryana,)
The Bradford pear (Callery Pear) is perhaps one of the earliest signs of spring each year.  When the days start becoming longer and the weather starts to warm up, the first flowering trees are usually from Bradford pears.  This flowering pear variety pushes out tremendous amounts of snow-white flowers that cover every bud of the tree.  When looked at a distance it is as if the tree has been encased in a soft white cloud and when planted as a grove, that cloud seems to extend endlessly into the landscape.  Once the petals fall, the ground is covered by a white blanked of petals and is reminiscent of a snow- covered landscape.  Grown primarily for these extraordinary flowers, this pear does not produce edible fruit and can grow up to 60 feet tall.  Fruits are like tiny, hard apples, round, to ½ inch in diameter, greenish-yellow flecked with whitish spots, with 2-4 black seeds.  After freezes, they soften, darken, wrinkle and become only palatable to birds.  It is an extremely popular, vigorous growing, medium size, shade tree with outstanding clusters of white blooms in spring and very attractive yellow to red to purple foliage color in fall.  They have been widely planted throughout the United States since the early 1900s as an ornamental and It has a wider and more erect, branchier canopy than the species. Being that it flourishes in poor soil, wet or dry, acidic or alkaline, it is ideal for those with bad soil conditions and also do not have many pests or diseases.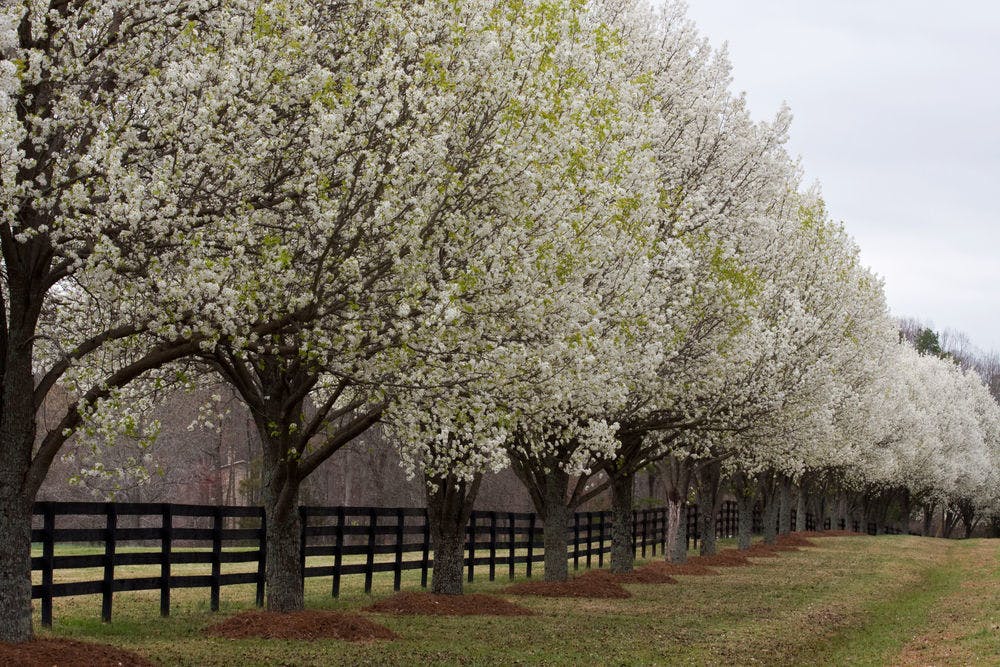 Bradford pears line a fence
Willow (salix)
When people think of willow trees, they envision a tree that has long slender branches draped over a water feature such as a pond or river.  This sight is not by accident.  Willows are water loving and like standing water.  Their long, far-reaching root systems can be helpful in clearing up puddle- and flood-prone areas of a landscape. They also like to grow near ponds, streams, and lakes. Willows include more than 400 trees and shrubs from the Salix genus—a group of moisture-loving plants that are native to temperate and cold regions in the Northern Hemisphere. This scientific name also gives its name to a chemical compound found in willow plants called salicylic acid. This is the precursor to the pain-relieving drug aspirin.
This Willow is one of the fastest-growing shade trees, growing up to 6 to 8 feet a year. Willow trees can have great height differences: The Dwarf Willow only grows as high as 5 ft. (1.5 m). Whereas the Weeping Willow can grow up to 82 feet (25 m) in height. Full sun and partial shade are best for this tree. It needs at least four hours of direct, unfiltered sunlight each day. In spring, your Willow Shrubs will come with many branches full of light green leaves with a hint of white on each leaf. However, these shrubs give you a show each spring because the new growth comes in a pink tint.
Another interesting fact about willows is that willow wood is strong yet pliable. Wood from willow trees is used to make furniture, musical instruments, sports bats, and toys. Also, willow rods can be used to make woven wicker baskets. Willow Hybrid grows up to 6+ ft. a year, filling out to create a solid green wall! These trees are a landscaping secret that can add millions to the value of housing developments as well as raise your property value. 
When you grow willow, you're not only growing a beautiful landscape tree for your water feature but potential products that are produced by this tree.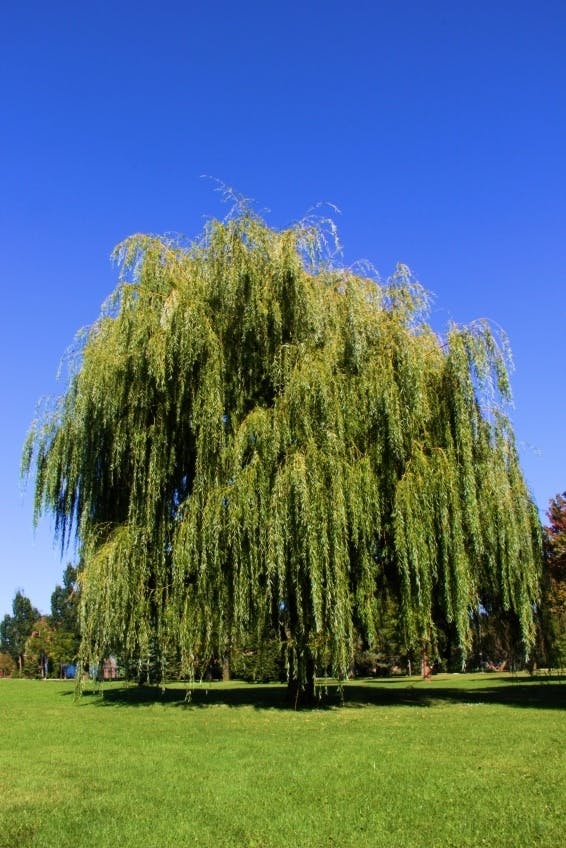 Willow Tree in the field
Flowering Cherry (prunus cerasus)
One of the most spectacular and showy flowering trees, the flowering cherry bursts into bloom after a long cold winter.  This tree is a true showstopper with its spring flowering! The masses of dark-pink buds transform into clouds of semi-double pink flowers that then cascade into a pure white flower color that is just itching for an encore. Those blooms won't just be attracting neighborhood attention, local bees and butterflies will make your tree their favorite hangout spot! Providing ample nectar and pollen, it is a beneficial pollinator's dream buffet! Some types also produce small cherries in the summer that are too tart for our palettes, but appeal to a wide variety of birds.
Flowering cherry trees are an excellent choice for home gardens because they require minimal care. In addition to spectacular cherry blossoms, they provide year-round color and interest with seasonally-changing foliage and attractive bark. Flowering cherry trees are quite versatile and will fit in with many garden styles including Japanese tea gardens, Asian or Zen gardens, cottage and country gardens. Plant in groves to make an impressive impact in a larger landscape.
Fertilizing and pruning are also simple. Fertilize in early spring, before blooming, with a general-purpose or well-balanced blend for best results. Also, follow label instructions for fertilizing. And for pruning, simply remove dead, damaged or diseased areas and cut back competing branches after blooms have faded on your Flowering Cherry Trees.
Flowering Cherry in front of building
Spruce (Pinaceae)
The spruce tree is an evergreen tree in the genus Picea.  Containing of about 40 species of evergreen ornamental and timber trees in the conifer family Pinaceae, native to the temperate and cold regions of the Northern Hemisphere. Spruces are large trees, from 20–60 (–95) m tall when mature, and can be distinguished by their conical form and their needles, that are attached singly to the branches in a spiral fashion.  Norway spruce, blue, white, oriental, Colorado, and Sitka are just a few of the varieties of spruce.  Most species of spruce grow to the height of 60 to 200 feet. Sitka spruce is the tallest species of spruce that can reach 300 feet in height.  Used largely in the paper industry, the timber was used in many applications ranging from homes, boats, musical instruments, and furniture.  Spruce is one of the most important woods for paper manufacture, as it has long, light, soft wood fibers that bind together to make strong paper. Spruces are cultivated over vast areas for pulpwood for this purpose. One very distinguishing factor of spruce trees is that every year they are very popularly used as Christmas trees.  Many farms around the world grow these solely for the purpose of being used as the center stand for their many holiday gifts.  In the landscape, it is not uncommon to see a house lined up with highly decorated spruce trees with lights and music every year in tune with the holiday season.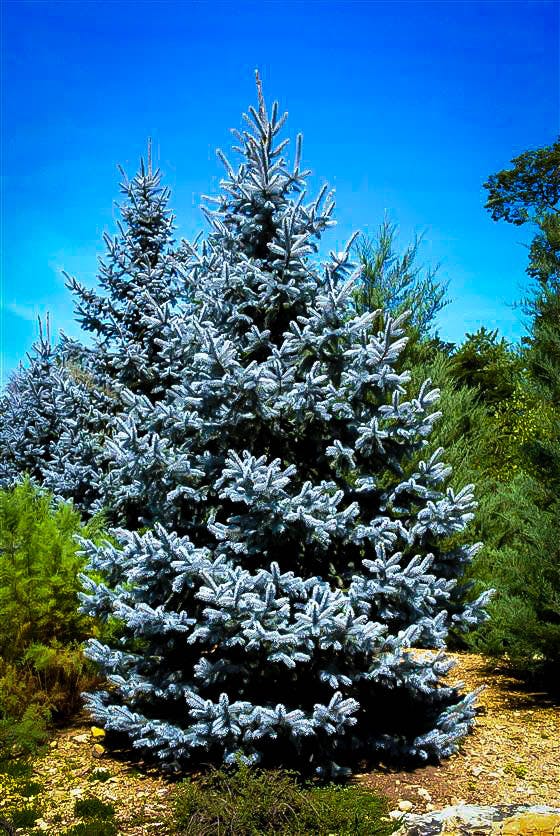 Blue Spruce Tree
Magnolia (magnoliaceae)
Yet another great sign of spring is the magnolia.  These wonderful trees boast showy blooms, usually before the trees have even sprouted foliage.  Magnolia trees are native to East Asia and the Himalayas, eastern North America and Central America. They grow 40 to 80 feet tall with a spread of 30 to 40 feet. All have large dark green leaves with a somewhat tropical appearance that grow anywhere from four to 10 inches in length.  Moist well-drained slightly acidic soil is preferred by most.  They are group by varieties such as Star, Southern, and saucer magnolias with the saucer types being the largest.  There are also dwarf varieties for those with compact gardens that still want that additional flare each spring. They also all share an attractive cone-like seed structure that ripens to reveal bright red seeds in fall. Magnolias don't run into many problems. The biggest issue is bud hardiness. If you select a variety appropriate for your zone, this shouldn't be a problem. The worst that will happen is you will lose out on some flowers—nothing deadly.  They're known and loved for their giant fragrant blooms which can get as large as ten inches across.  Be ready for a show stopper when you decide to grow Magnolias as there is not many as gleamy as it in the spring.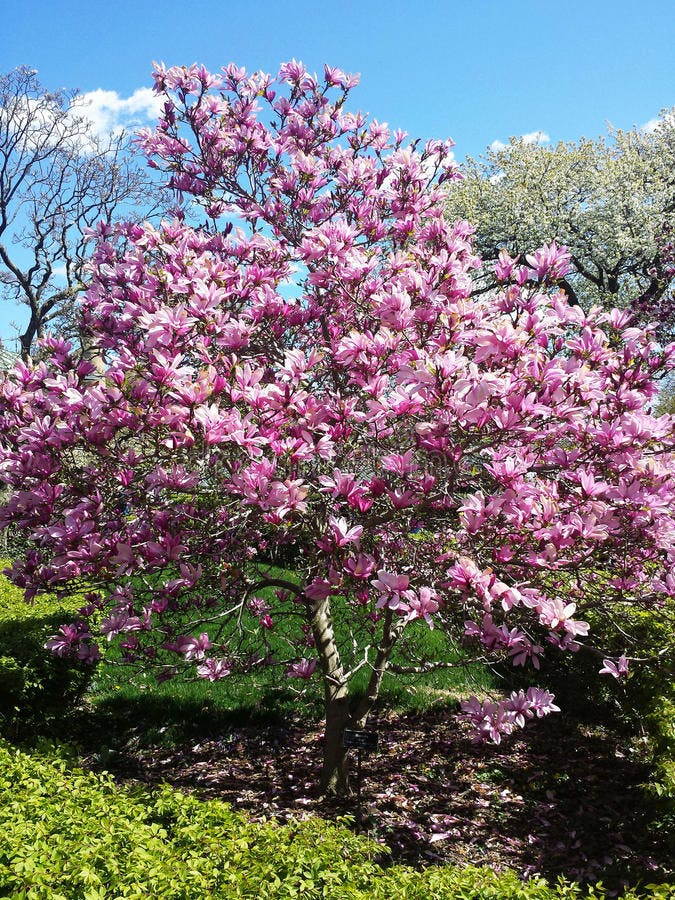 Beautiful Magnolia Flowers
Birch (Betulaceae)
Birch trees are a joy for any landscaper to have and grow.  They have numerous benefits such as the decorative bark, whimsical branches, manageable height and gorgeous fall foliage. They're also easy to maintain.  Native birches live in temperate or boreal climates across the northern part of North America.  It was a very useful tool for early settlers as they were used to construct things such as building, crafting and writing material.  Most everyone has some recognition of the birch tree, a tree with light-colored white, yellow, or grayish bark that often separates into thin papery plates and is characteristically marked with long horizontal dark raised lines.  Due to its shallow root system the birch tree is very sensitive to heat and drought. It needs moist, cool soil, but also sunshine on its leaves to flourish. When planting a birch tree select a site that will shade its roots in the afternoon and still provide sun to canopy for much of the day.  Birch trees can grow as high as 65 feet and spread 15-30 ft wide depending on species.  There are 11 common birch species worth noting. Bog, Cherry, Dwarf , Himalayan, Japanese White, Paper Bark, River, silver, Weeping, and Water.  Each with their own distinct features that makes them stand apart from all other trees.  Wildlife such as deer, moose, birds and hares share a relationship with birch as a food source for their leaves, bark and seeds.  Whatever may be the reason, birch is one tree that should be on the top of your list for your garden.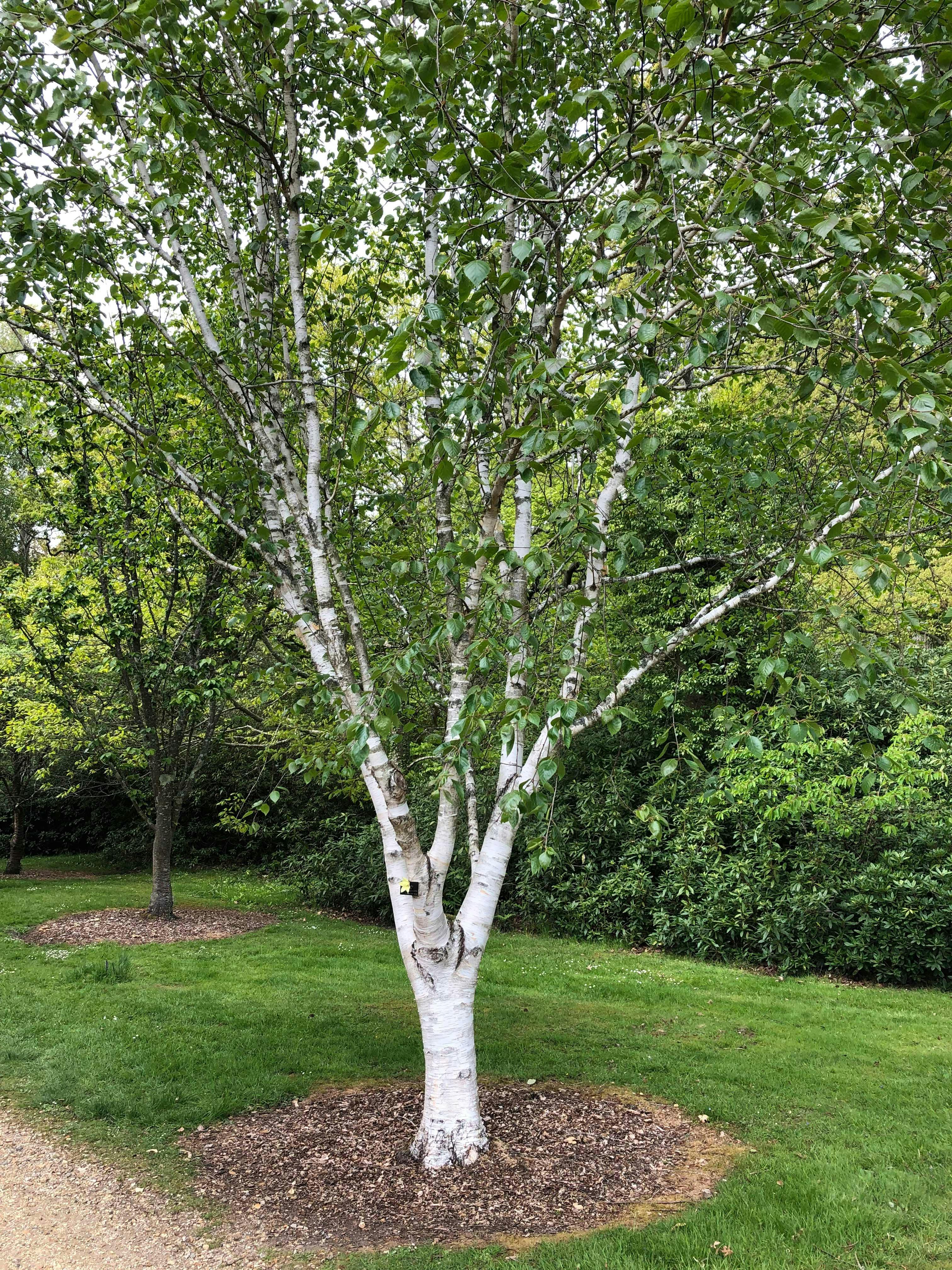 Birch Tree with its light colored bark
Trees are some of the most diversified plants in the world.  With some care, they can provide years and years of joy.