Don't pass up the opportunity to have one of the following list of 10 plants recommended by Plant Story.  Plants are chosen based on decorative aspects, ease of care, low water requirement, low light requirement, low maintenance and air purifying properties
Snake Plant (Dracaena trifasciata) AKA: Mother-In-Law Plant
    A species of flowering plant native to tropical West Africa and Asia.  Having evergreen sword shaped leaves coming out of the center, Snake Plant is very pleasing to the eye adds to the beauty of home décor.  Since it requires little water to survive, it is very forgiving should you miss a watering here and there.  This house plant not only pleasing to the eye and low maintenance but also aids in purifying the air around the house.  Snake plants known for their ability to help remove toxic air pollutants such as CO2, benzene, formaldehyde, xylene and toluene. They filter the air even at night, so it is ideal to use them in the bedroom to help get a better night's sleep.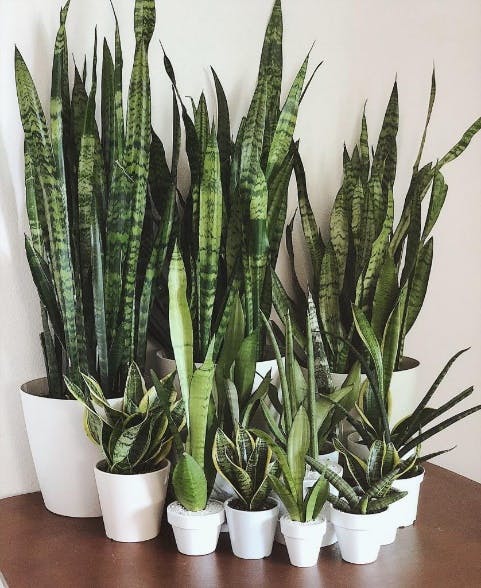 Snake Plants in pots
Spider Plant (Chlorophytum comosum) AKA: airplane plant
Spider plant is a species of perennial flowering plant that hangs down from pots.  It has many long thin arched foliage that is solid green or variegated with white.  It gets its name from the many spider-like runners that hang down from the mother plant that resemble spiders.  It is a relatively easy to care for plants and is suited as beginner plants to start with. Spider Plants requires moist soil non-water logged soil to do best.  They can be easily propagated with the runners that it produces to create more plants.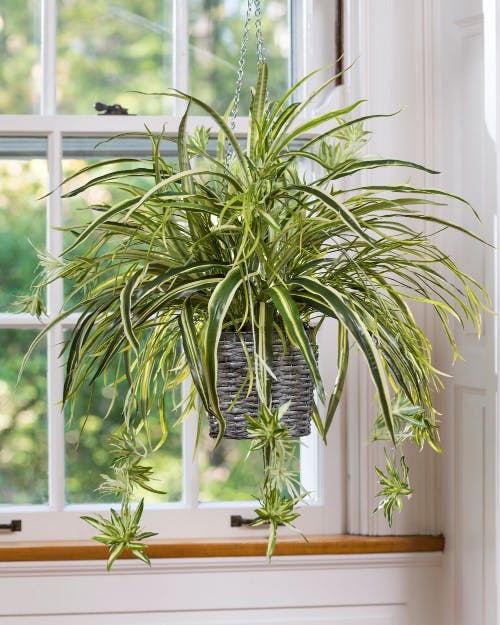 Hanging Spider plant
Monstera Deliciosa  AKA: The swiss cheese plant
Monstera Deliciosa is a species of flowering plant native to tropical forests of southern Mexico to Panama.  Easily identified by its dramatic serrated large leaves (hence the alternate name), it is an Araceae which is part of the aroid family. They are vining plants that like to climb over structures or trellises.  It may serve as a striking addition to any room and is hardy and does not require much care.  As with most houseplants, they can tolerate bright indirect light to dim lighting settings as well as fluorescent lighting.  They are also forgiving on water should there be a missed watering.  This is ideal for new and beginning gardeners.  Older plants eventually give forth to large flowers are large and resemble those of peace lilies with a large petal surrounding the compound flower in the middle.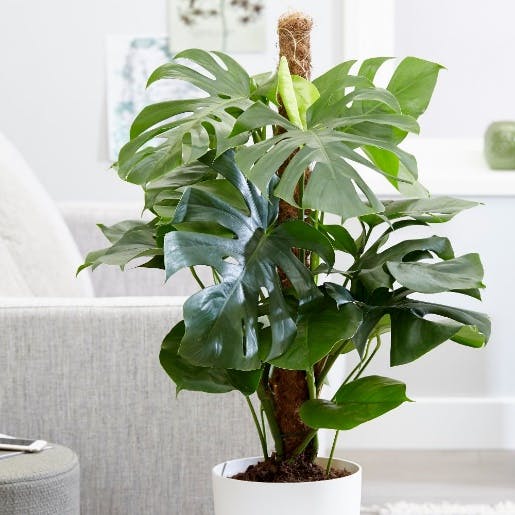 Monstera Deliciosa Plant
Pothos (Epipremnum Aureum)
Pothos is a type of tropical vine plant with long trailing stems and heart shaped leaves.  Enjoying a wide range of environments, care for pothos is easy and undemanding, thus a great addition to any indoor garden.  Thriving in low light to indirect light, a multitude of soils or in a vase, and does not require much watering, it is easy to see why it is considered by many to be a great way to get started caring for houseplants.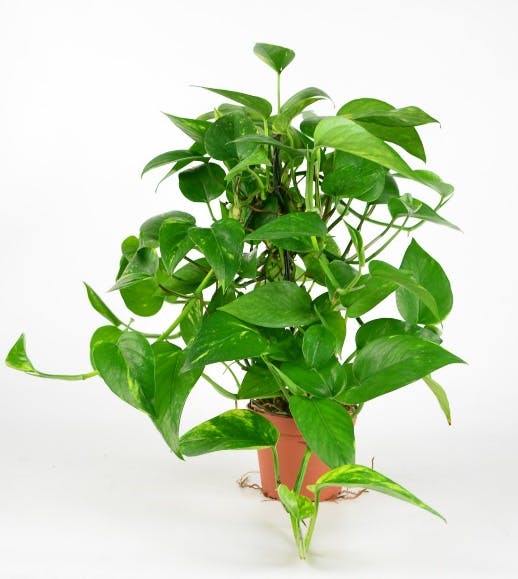 Vining Pothos
ZZ Plant (Zamioculcas zamiifolia)
Zamioculcas Zamiifolia or ZZ Plant is a genus of flowering plant in the Araceae family.  Native to eastern Africa, it has wide dark glossy green leaves that grow on fleshy elongated stems coming out of a single bulb at the base.  It thrives in low light environments, tolerates drought and neglect.  ZZ plants also have been known to have air purifying properties that is capable of removing xylene, toluene, benzene and ethylbenzene.  As such it is popular in small offices and homes.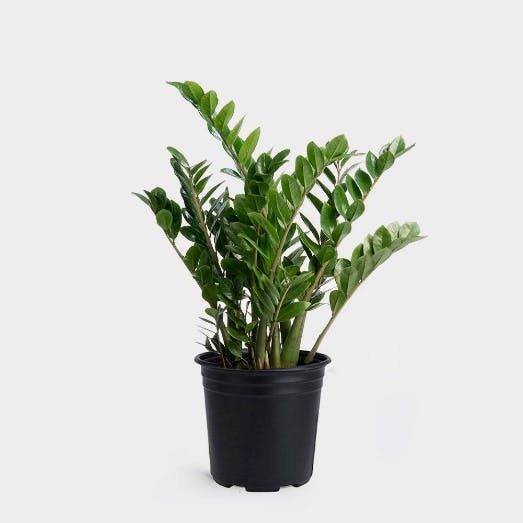 Healthy ZZ plant in pot
Aloe Vera
Aloe Vera is a widely known succulent plant that originated from the Arabian peninsula but has since been known to grow wild in tropical and subtropical areas around the world.  The fleshy sword like thorny stems surround a single stem from which it originates.  A very low maintenance plant, it does not need much water and grows well in many home environments. Among it being a great house plant, it also has several uses and some varieties are edible as well.  One of the uses of Aloe takes advantage of its soothing properties and pieces or the gel is applied to soothe the skin, reduce acne, and itches.  Edible varieties are used in drinks, snacks, sweets in many cuisines and has shown to help with weight loss, diabetes, and hepatitis among other things.  Unless the variety is known, it is suggested not to consume aloe for the wrong variety can have ill effects.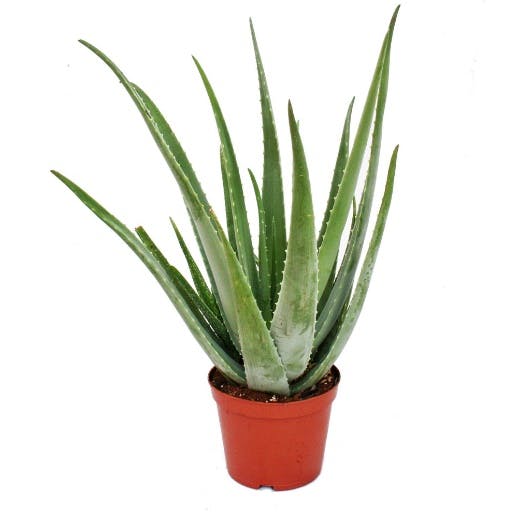 Aloe Vera Plant
Aglaonema  AKA: Chinese evergreens
Belonging to the Arum family, Aglaonema is a flowering plant native primarily to tropical regions of Asia.  Also commonly known as Chinese evergreens, Aglaonema is a highly decorative leafy plant that grows well in low light, and also artificial fluorescent lighting.  Its easy-going low maintenance nature ensures that a home gardener can enjoy it even with a demanding (and forgetful) schedule.  Many Aglaonema have vibrant and colorful foliage, ranging from Green, white, yellow, orange to red, and because of that is very popular as an indoor plant.  As with many great indoor plants, they are also great air purifiers capable of removing toxins from the air.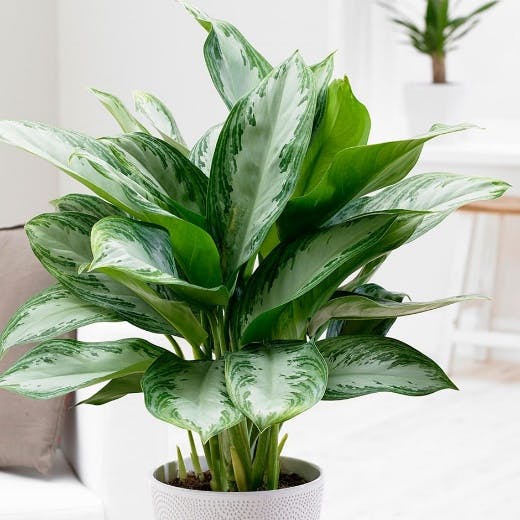 Chinese Evergreen
Jade Plant (Crassula Ovata) AKA: lucky plant, money tree
Jade plant is a succulent plant that puts out small white flowers and originated from South Africa.  Because of its ease of care, it is a common houseplant around the world.  Jade plants have thick woody trunks and glossy, oval shaped leaves are reminiscent of tiny trees and so has become very popular.Since it prefers more dry soil, it is very forgiving to missing waterings and is a perfect candidate for beginner gardeners.  Leaf sections that fall off usually develops roots and can be replanted to grow a new plant. Jade plants can be pruned to whatever size container to fit the needs of the gardener.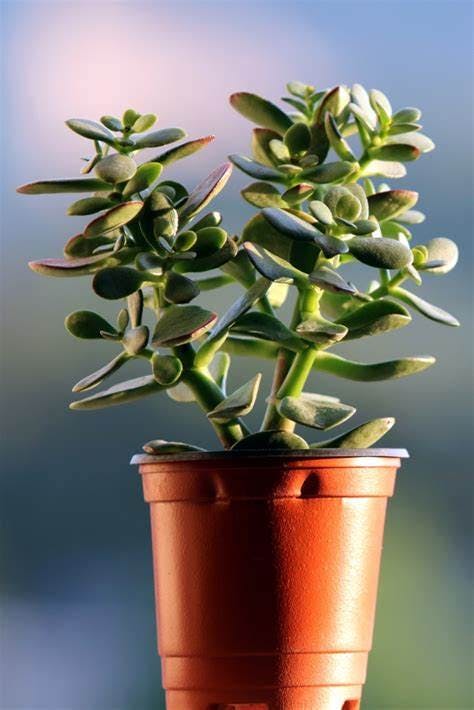 Jade plant
English Ivy (Hedera helix) AKA: Ivy, Common Ivy, European Ivy
English Ivy is in the Araliaceae family and is native to Europe and parts of Asia.  It is a vining woody evergreen plant that, if planted outdoors, is invasive and takes over neglected areas of the yard.  Due to this aggresive nature, it makes for a good container house plant .  If planted in containers, it is recommended that it be allowed to climb on a trellis or left to dangle over the edge of the pot.  English Ivy requires little care aside from sparse watering and a well lit area to flourish.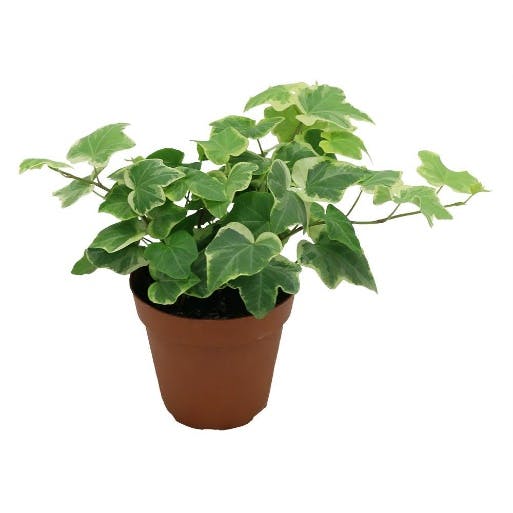 English Ivy Plant
Growing and caring for these plants indoors can easy and rewarding. You will not only enjoy growing it but also have fun with the varieties and benefits that they all can bring.