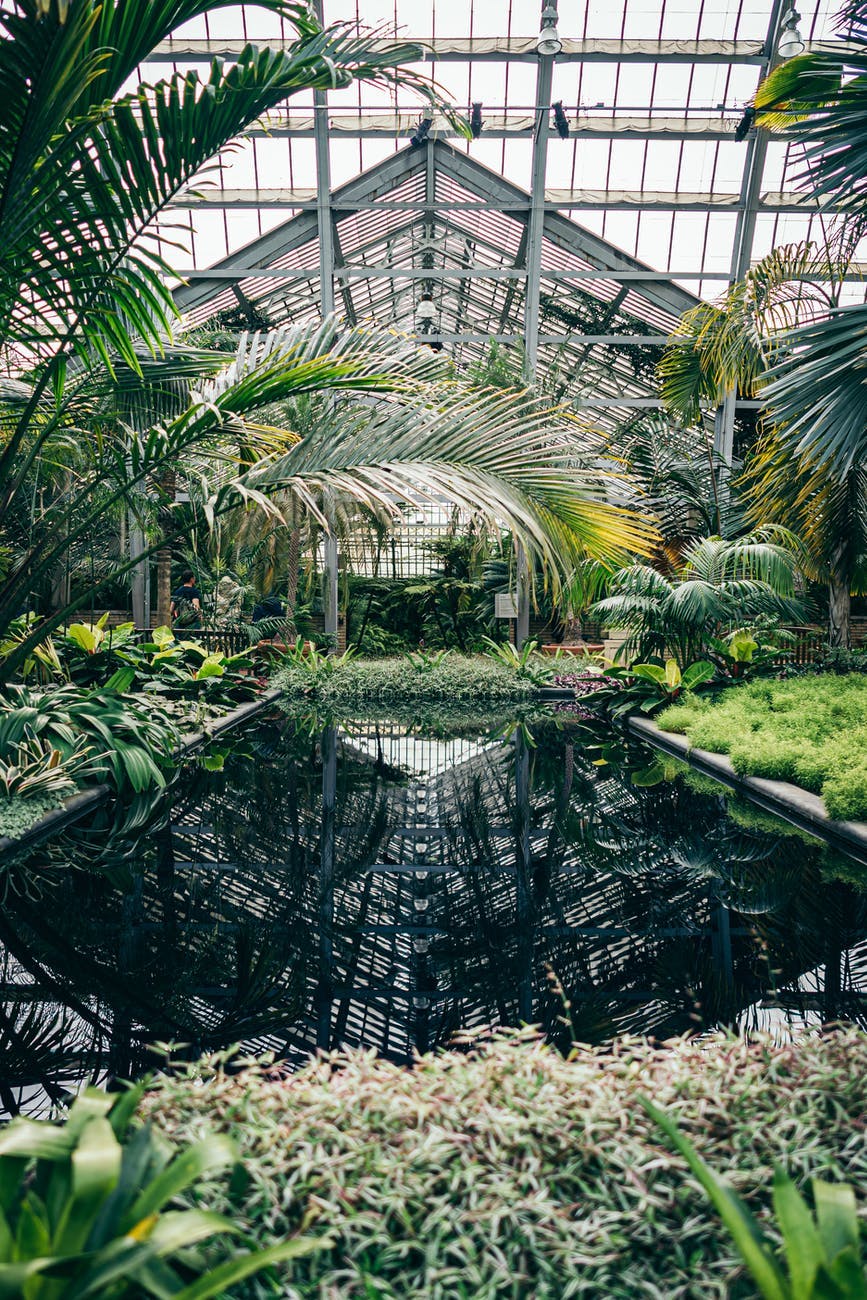 Pond Feature in large greenhouse
Welcome to Plant Story's guide to greenhouses. This guide will help give you a basic understanding of the purpose of a greenhouse, benefits, some of their compositions and additional features that make them increasingly popular in today's modern garden.
Greenhouses comes in many shapes and forms and are used in many different ways. The definition of a greenhouse is a structure enclosed (as by glass) and used for the cultivation or protection of tender plants. As such there are many uses for greenhouses in today's gardening scene. The greenhouse utilizes the thermal radiation it receives from the sun, turns it into heat, and keeps the air warm. That allows gardeners to keep a certain stable temperature levels inside the greenhouse, creating the most favorable environment for the growth and livelihoods of horticultural crops.
Uses for Greenhouses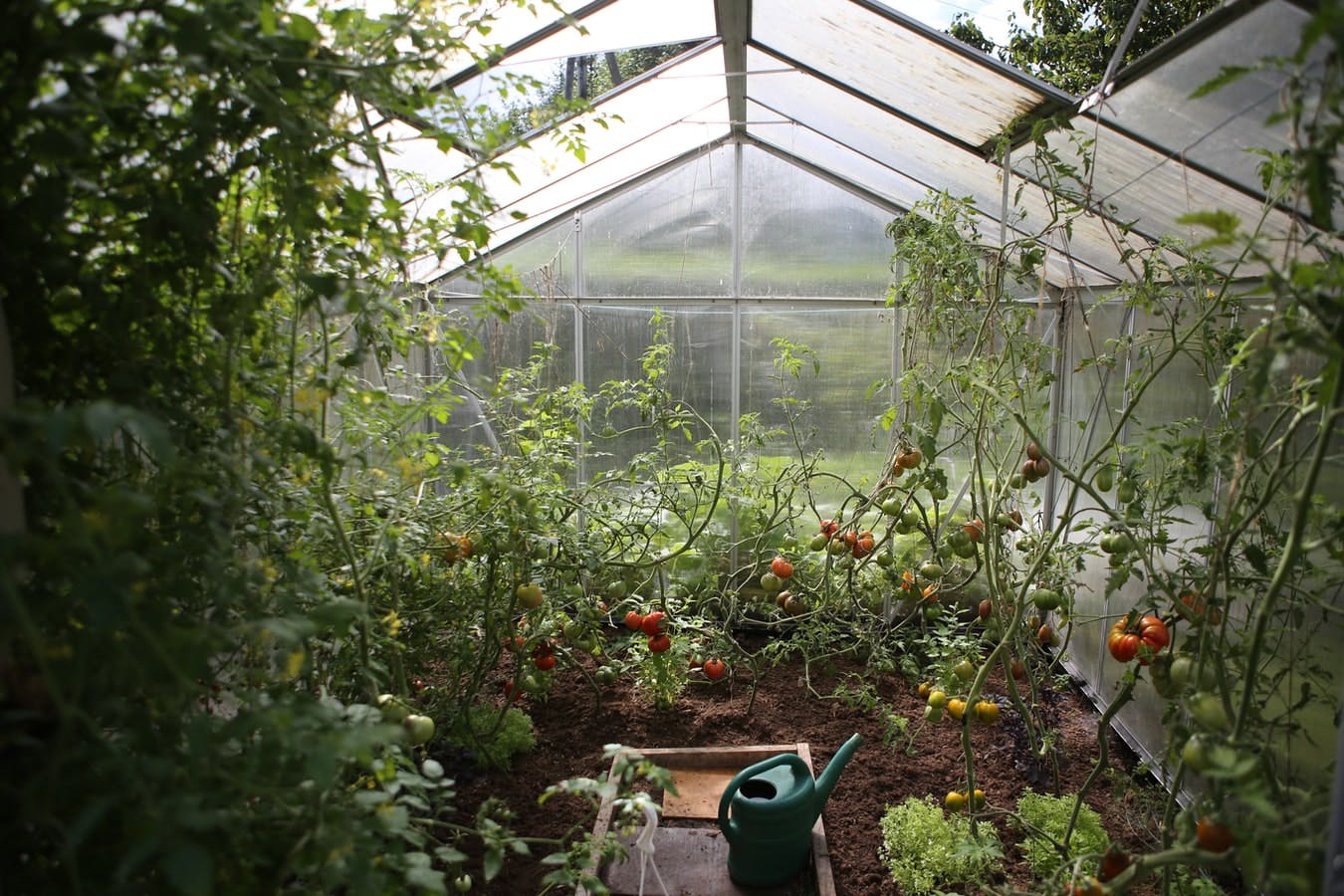 These uses included (but are not limited to):
1. Protection from cold weather for cold sensitive plants
2. Extension of growing season
3. Growing plants outside of USDA zones
4. Seed starting during off season
5. Protection from pests
6. Optimum environment
7. Outdoor lounge area
Types of Greenhouses
There are many types of greenhouses each with their own advantages and uses. Below are just a few examples of the types and how they are used . The variances are as diverse at your imagination.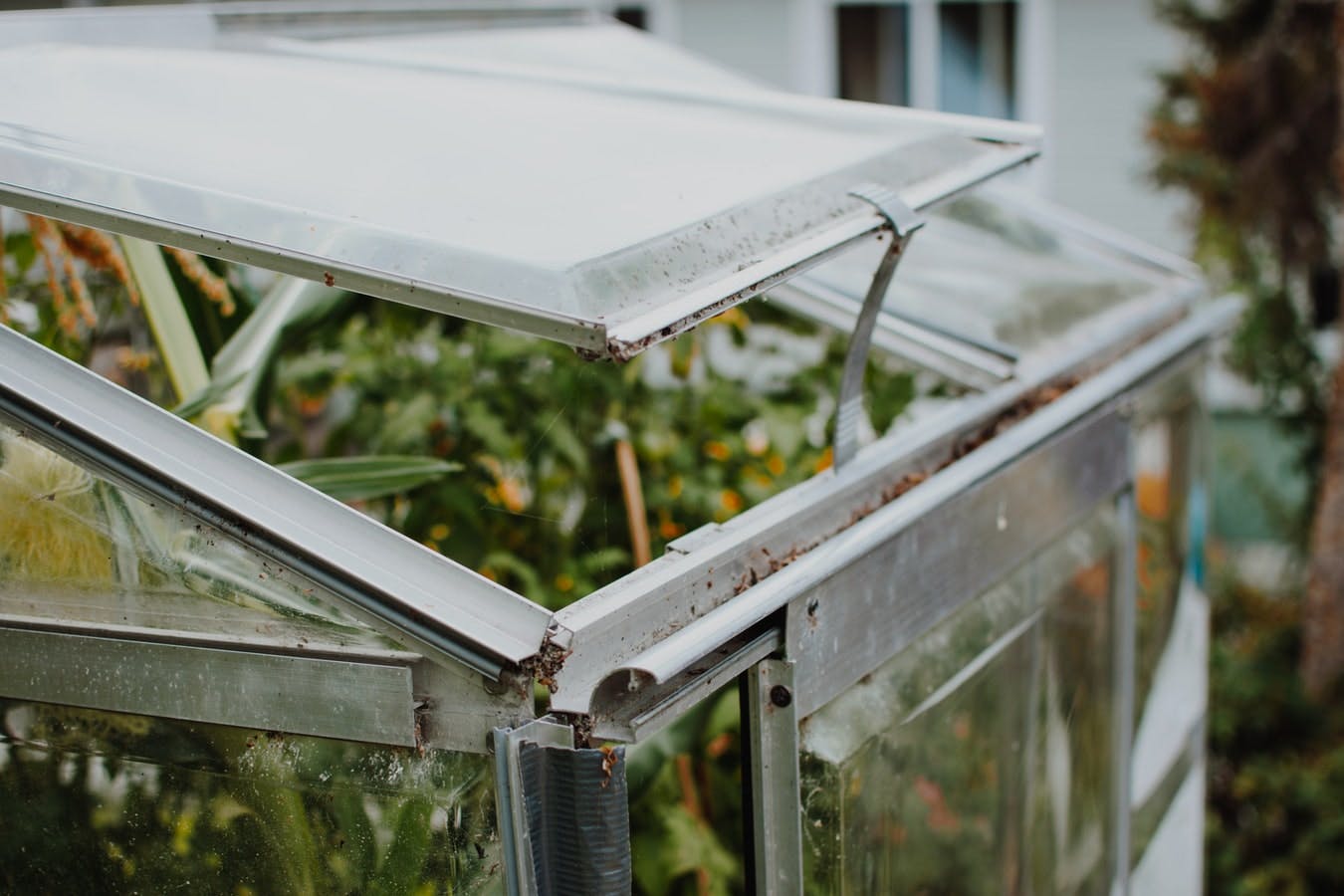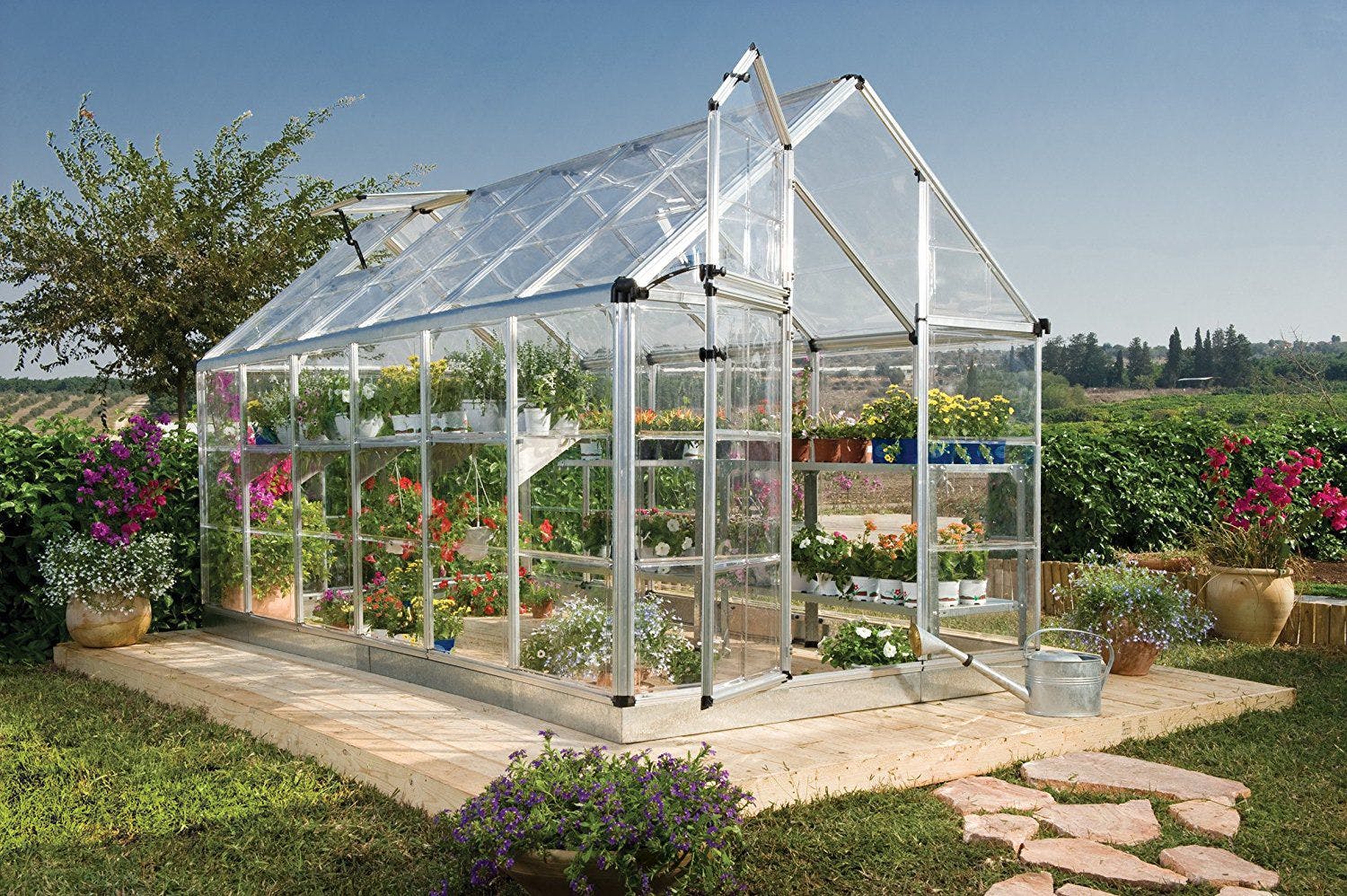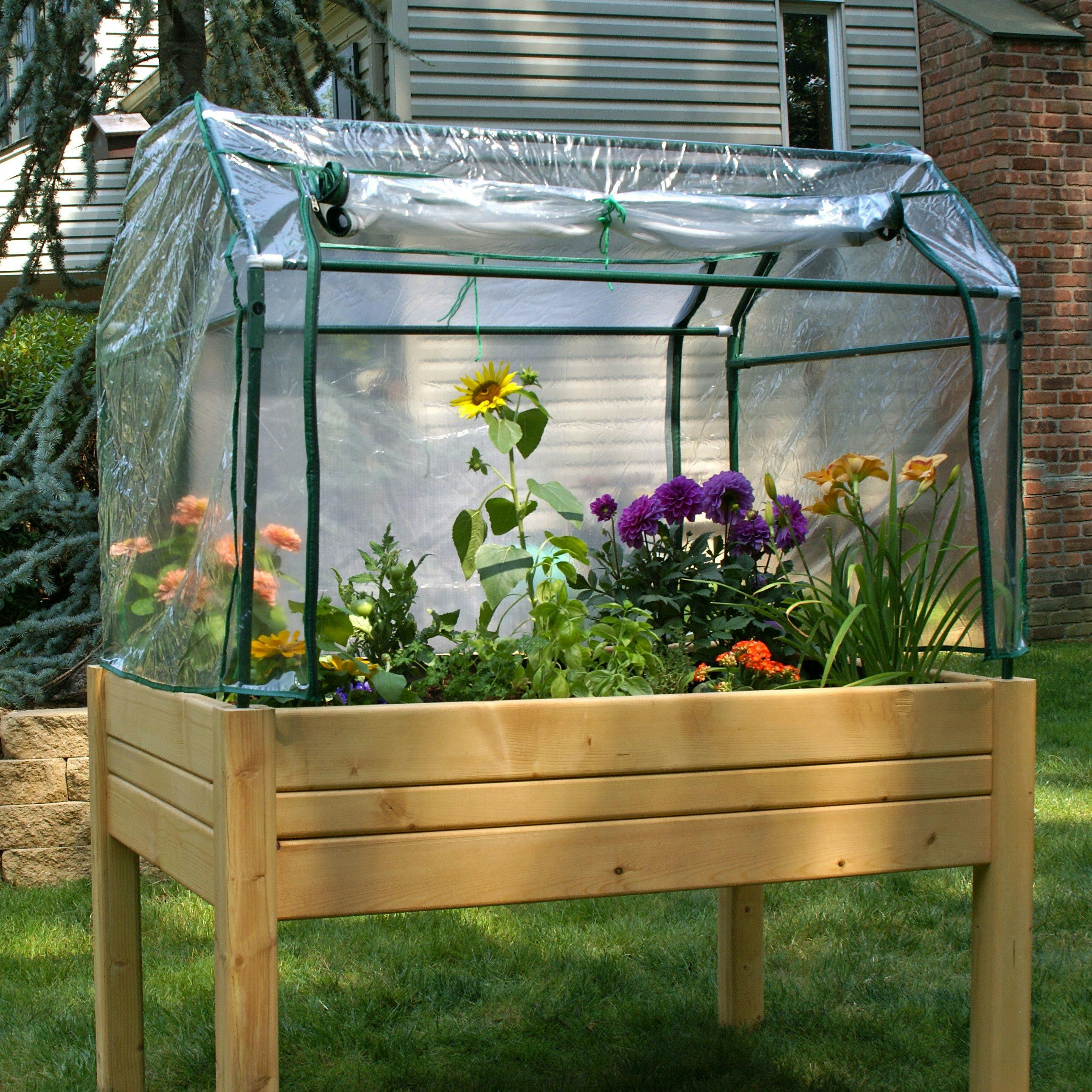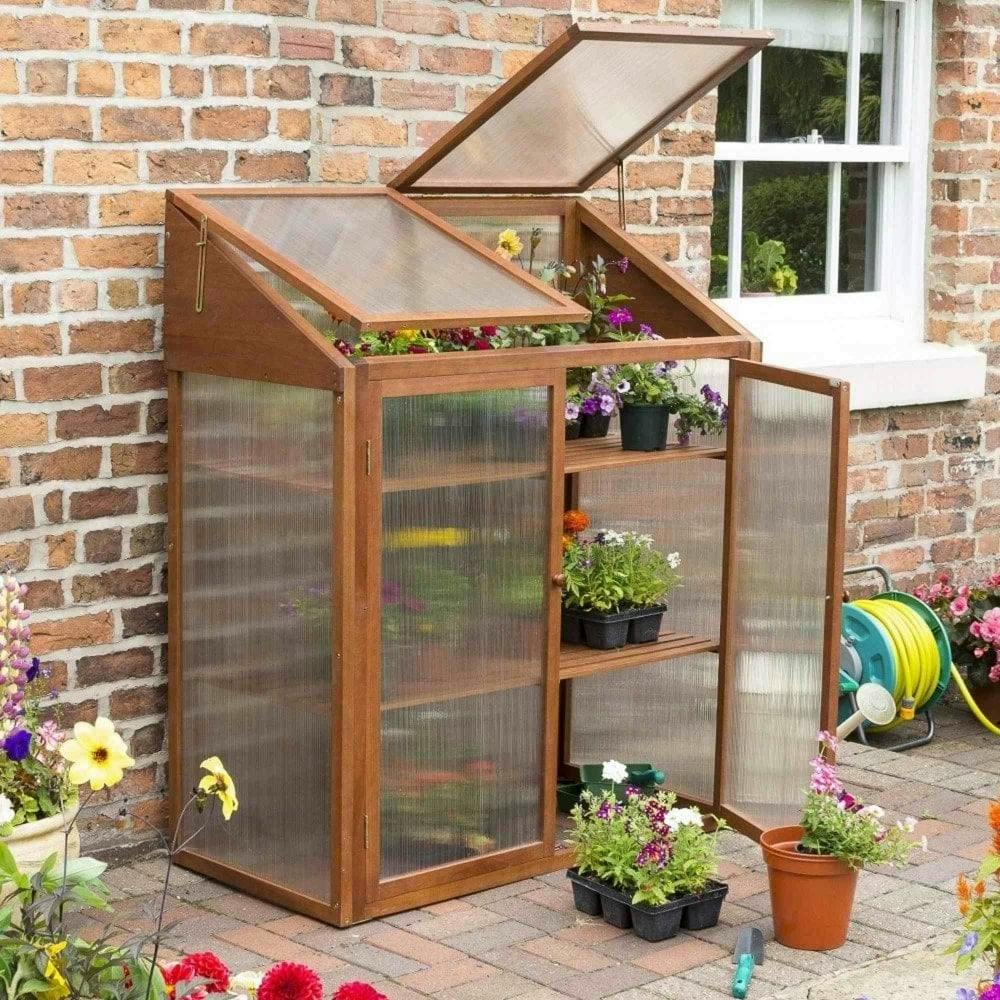 Wooden frame with plastic or plexiglass cover
A Wooden Frame Greenhouse blends in naturally with your garden, becoming an elegant and stylish feature, your own space to relax and grow your plants and flowers. A wooden greenhouse is known for its beauty, strength, and durability, they are also, much better at maintaining a constant temperature leading to a healthier and more natural environment.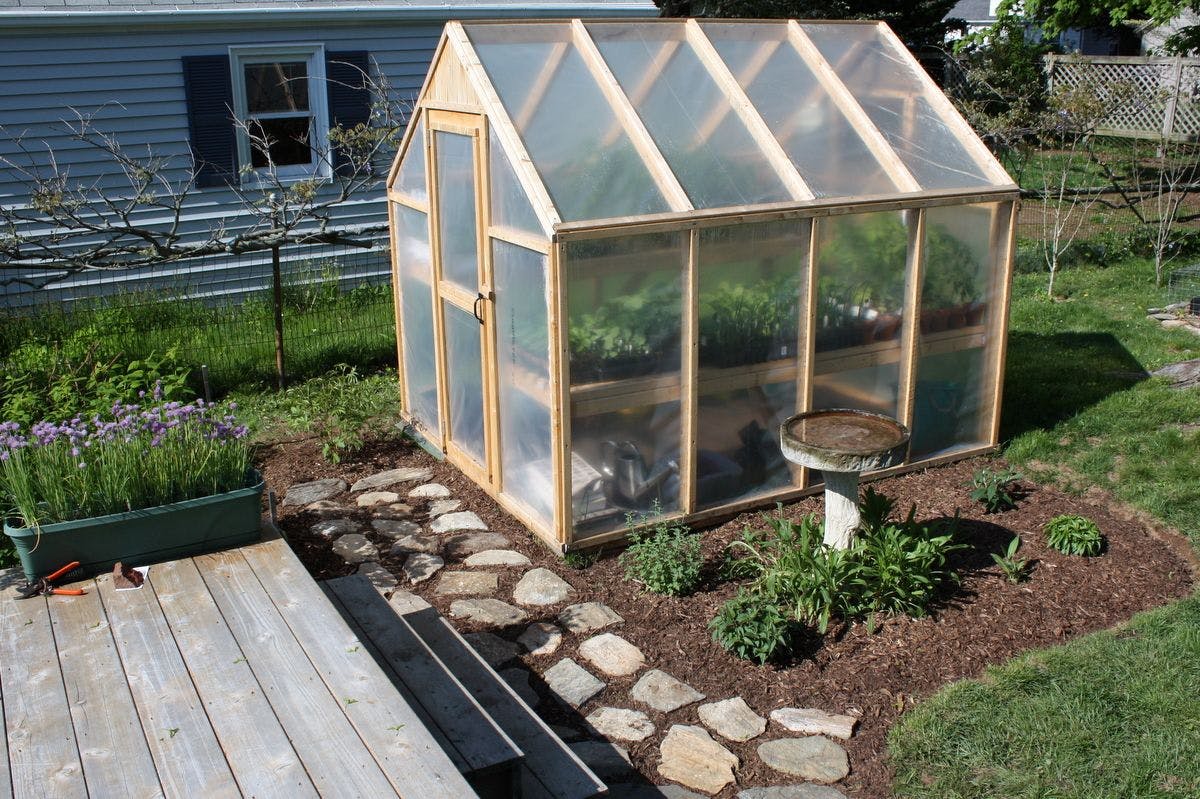 Wooden frame greenhouse
Cold Frames
A cold frame is a transparent-roofed enclosure, built low to the ground, used to protect plants from adverse weather, primarily excessive cold or wet. The transparent top admits sunlight and prevents heat escape via convection that would otherwise occur, particularly at night. Essentially, a cold frame functions as a miniature greenhouse to extend the growing season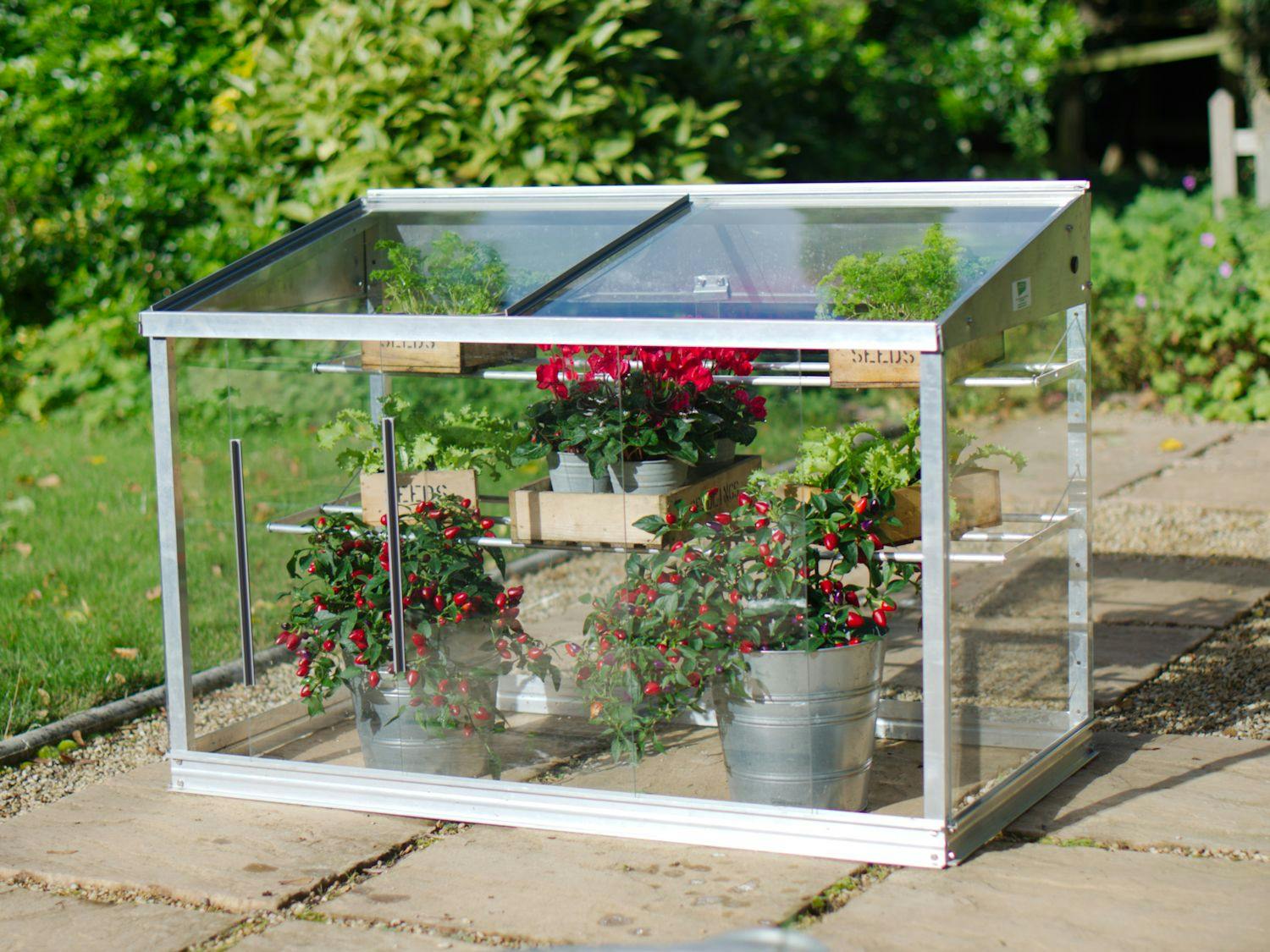 Cold Frame
Temporary/Portable plastic greenhouses
Temporary/Portable plastic greenhouses are small green houses made light weight powder coated steel frames and meant to last just a few seasons. These are relatively inexpensive and ideal for the first time greenhouse enthusiasts.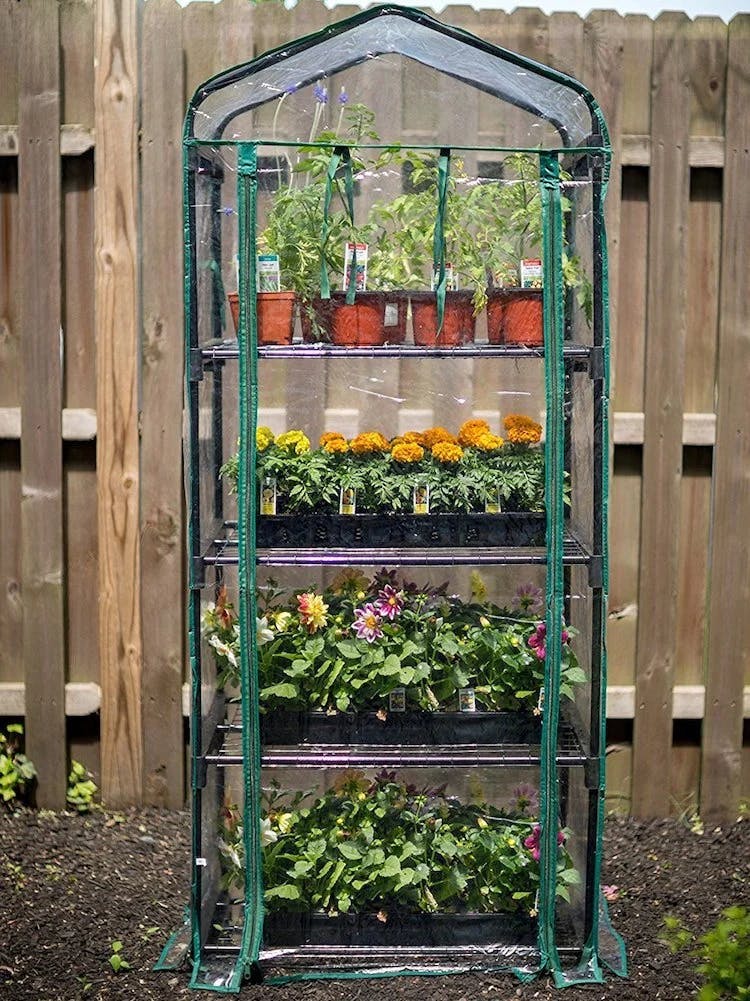 Portable greenhouse
Retractable Hoop Greenhouses
A Retractable Hoop Greenhouse is a type of garden bed cover that has a "hoop" shape. The supports are bent around the top of the garden raised beds, creating a dome-like space inside. This shape holds up the cover material, be it plastic, netting, or fabric. This design allows you to give your plants sunlight when they need it, and protect them from the elements at other times. Some hoop houses are hinged or retractable, which provides easy access to your plants.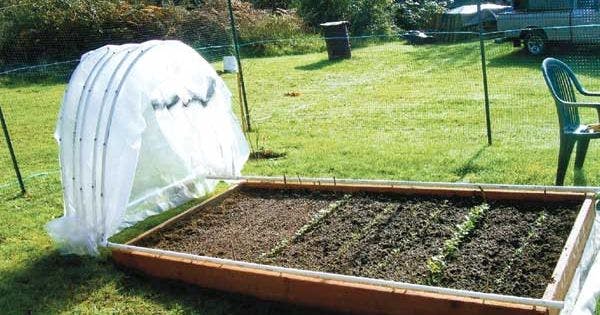 Retractable Hoop Greenhouses
GeoDomes
This greenhouse reminds me of part of a jungle gym I use to play on at the park as a kid. It is a circular-shaped greenhouse and very interesting to look at but gives a larger volume for a small surface area. This gives more space for vertical growing.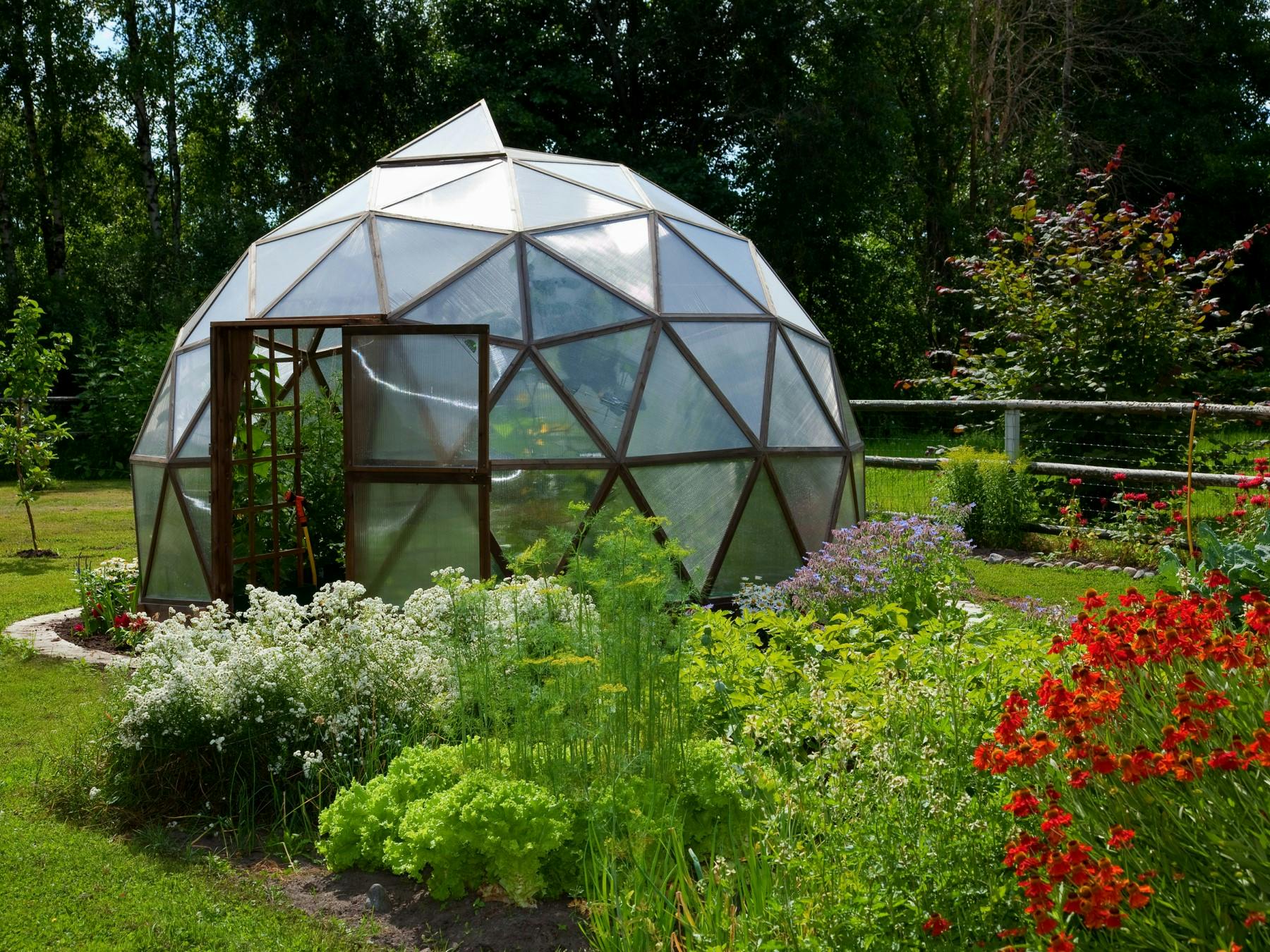 GeoDome
Manufactured Greenhouses
Manufactured Greenhouses are the higher end greenhouses for use at home. These are considered the more luxurious of greenhouses and often times are used as a getaway place away from the house.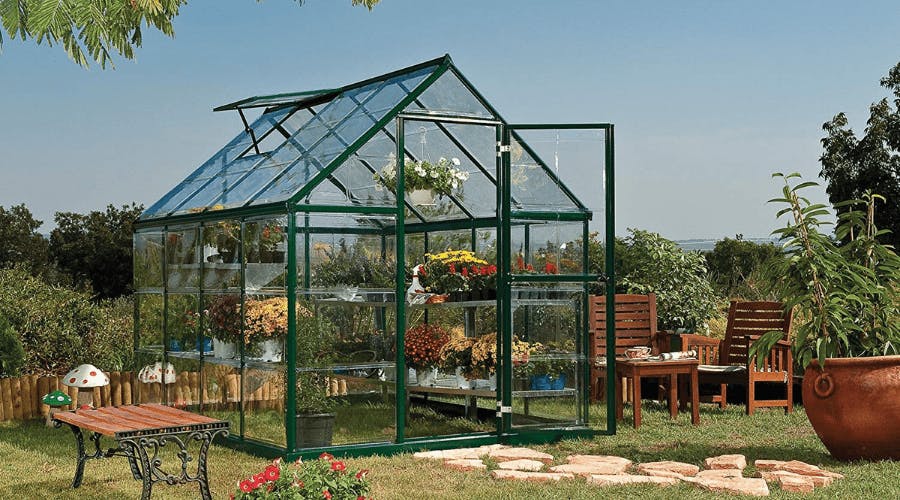 Manufactured greenhouse
Fold down wall greenhouse
Made simply with PVC pipes and plastic sheeting, this greenhouse idea is simple and easy to build. It consists of one side attached to a wall of a building and folds down to create the actual greenhouse unit. The only downside to consider is that this might not last in places where winds blow hard.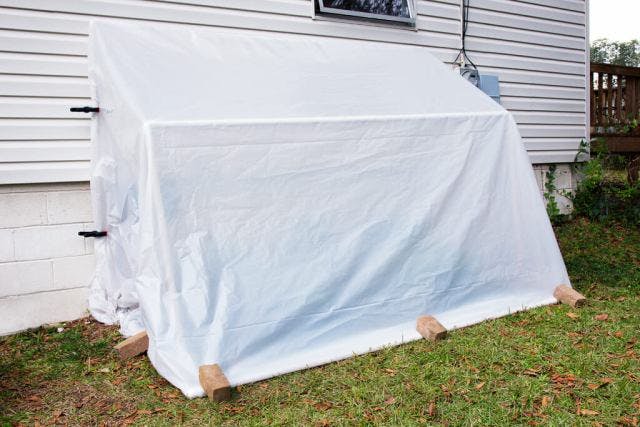 Fold Down Greenhouse
Recycled bottles greenhouse
As its name states, this greenhouse is made from all recycled plastic bottles. This innovative greenhouse design makes use of old plastic bottles to build the walls and roof of the greenhouse. With pollution ever increasing this helps make a conscious effort to recycle materials.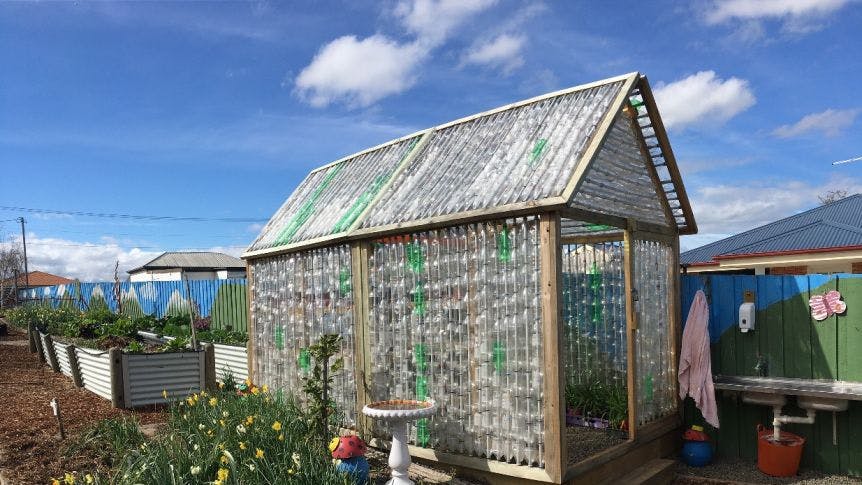 Water Bottle Greenhouse
Besides the type of greenhouses, there are other elements that needs to be considered when having a greenhouse as listed below
Temperature Regulation
Since Greenhouses are closed systems, meaning they have a barrier that keeps them from the outside environment, this can be a way to trap heat. The main purpose of a greenhouse normally is to keep heat in to allow plants to grow beyond the physical restraints of its surroundings. Factors such as weather are usually a reason for a greenhouse to be built. With such, air is trapped and sunlight generates heat. This is especially useful in the winter for starting seeds when the outside weather is too cold to support growth. This gives the gardener a head start on their plants to be more ready for the growing season. This is also beneficial for more cold sensitive plants that would not normally survive at lower temperatures as well.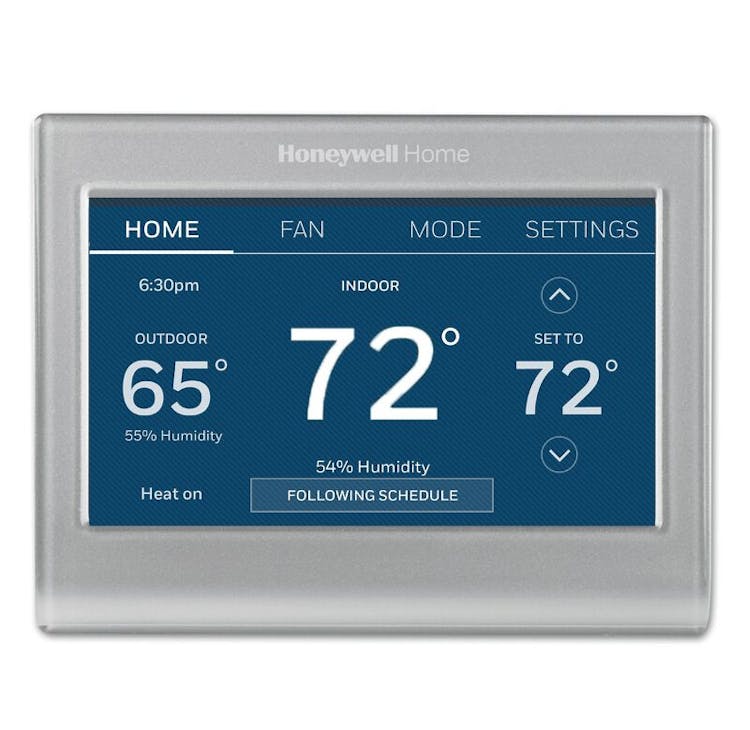 Thermostat
How to Heat a Greenhouse
Active Heating
When the weather is extreme and more heat is needed for the greenhouse in order to maintain the desired temperature range, a heating element will needed to be added. There are several ways to accomplish this. One is to add a heater or a heat fan inside the greenhouse. This system will push hot air and helps circulate warmth throughout the greenhouse. This also helps reduce the humidity inside.
Another option is to use heating mats from below. The mats generate heat up to the desired temperature and the heat that is generated rises up to heat the greenhouse. While this works, it is not as quick to warm a greenhouse as a heating fan since it does not actively distribute heat.
The drawback to these methods are that you would need to have a power source to plug into and may have to run one to the greenhouse should it not be attached to the house. The power can be regulated to meet the demands and be set on a timer for optimal performance.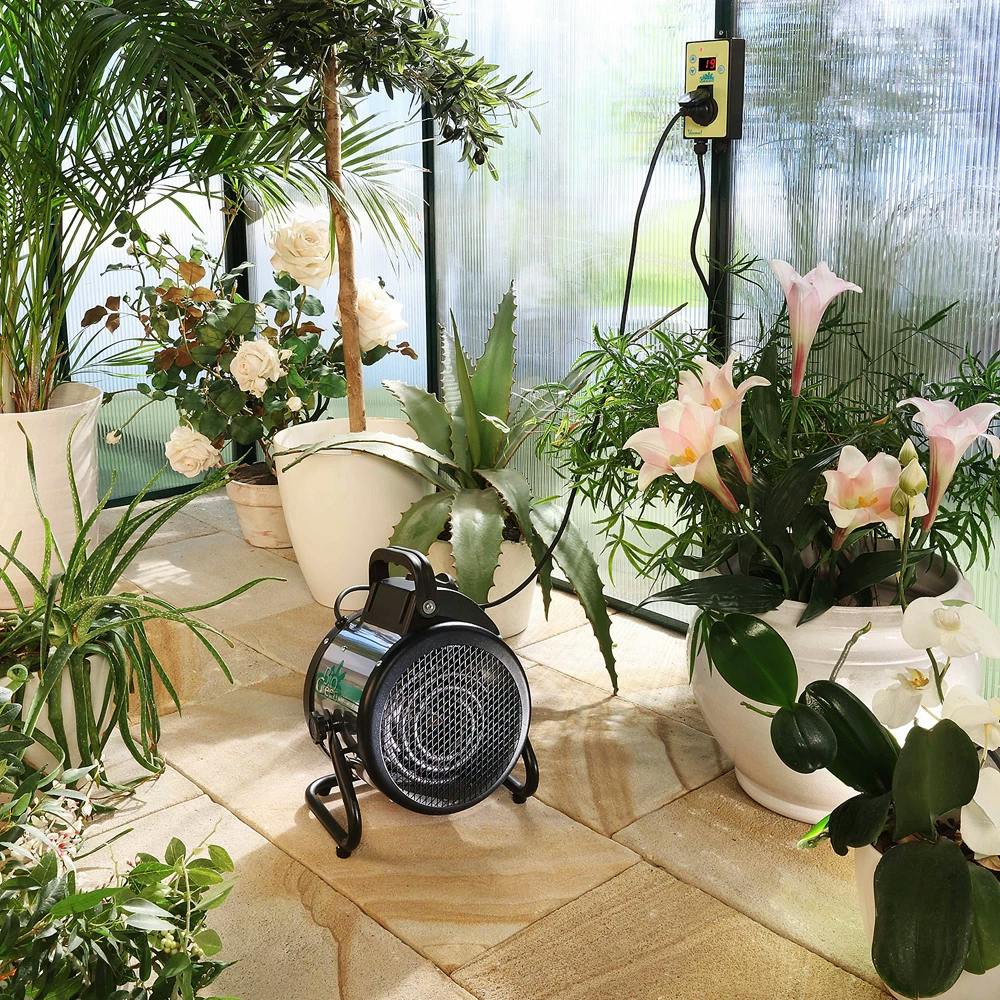 Greenhouse fan
Passive heating
One innovative way to heat a greenhouse without plugging into electrical outlets is through passive heating. Passive heating is simply a matter of determining where the sun exposure is, and trying to capture and keep as much of that heat as you can in the winter while keeping it out in the summer. One passive heating technique is to use thermal mass to capture heat emitted by the sun during the day. This allows for a heat source to help offset the cold that is associated with night. One way this can be obtained is to line the north wall of a greenhouse with black water containers. When placed on the north wall, these containers will not shade light from reaching the plants in the greenhouse; instead, they will absorb light and heat that passes through the greenhouse to the north wall. When the sun sets, the heat that is held by the water will slowly dissipate into the greenhouse environment. When passive solar heat is used in conjunction with electric heat, it can significantly reduce the annual cost of heating a greenhouse.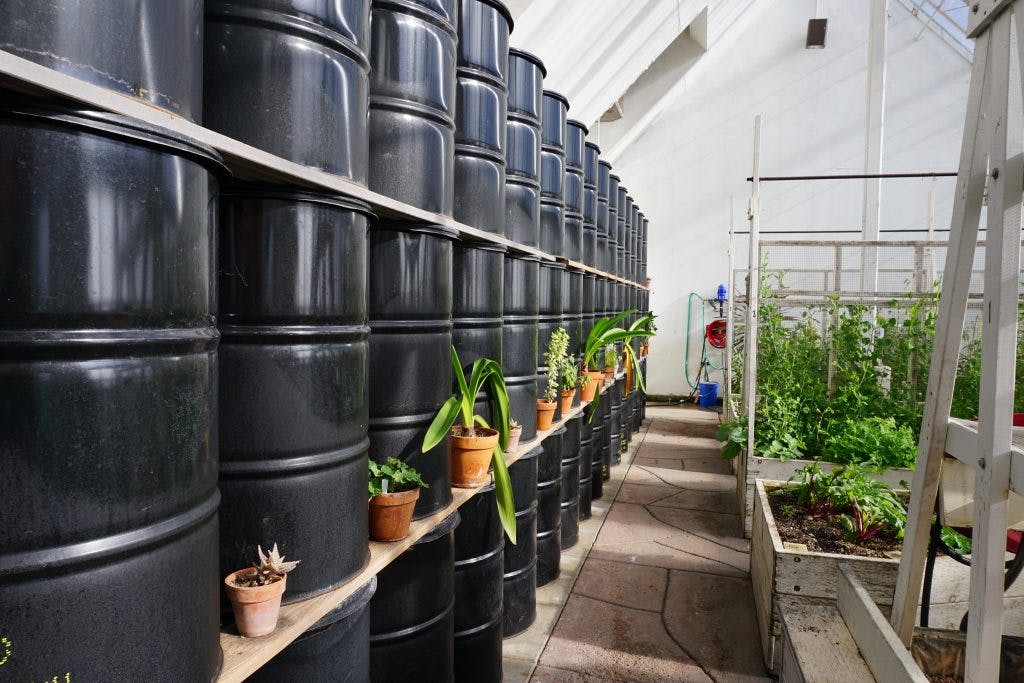 Water Barrels used for passive heating
Humidity Control
Since greenhouses are closed systems, there will be concerns that need to be addressed. One of which is humidity control. Excess moisture from water within the green house and plants through transpiration (The process of water movement through a plant and its evaporation from aerial parts such as leaves, stems and flowers) play a large role in the increased moisture inside the green house. Depending on the type of plants, this excess moisture can lead to rotting of the plants and give way to mold. It is recommended to have a temperature and humidity gauge to keep track of levels inside the greenhouse and see it is adequate for your plants.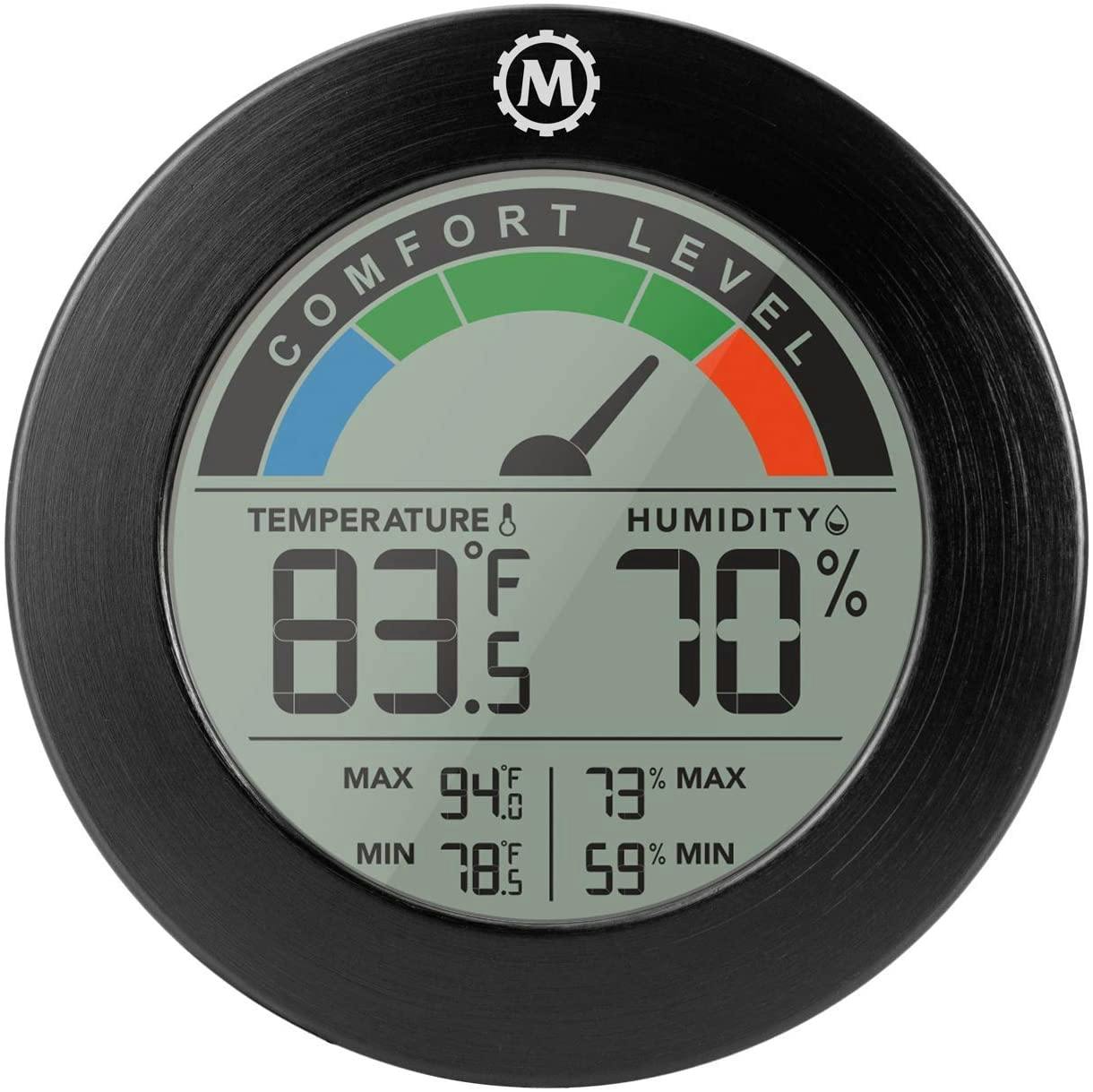 Measuring humidity
Air Flow
One way to address a humid greenhouse is to increase the air flow within. There are several options to obtain this requirement. One is to introduce fans that help circulate the air within the greenhouse. This will help dry out the environment. More effectively, vents can be added to the greenhouse that allows air flow exchange with the outside environment especially at times of high heat (and humidity) usually during daylight hours. This air exchanges the wet humid air inside with fresh dry air outside and if done during the warm hours of the day, should effectively reduce moisture related issues. At night the vents would be closed to ensure heat is stored to keep the plants through until the temperature raises it to where the vents need to be opened again in the day.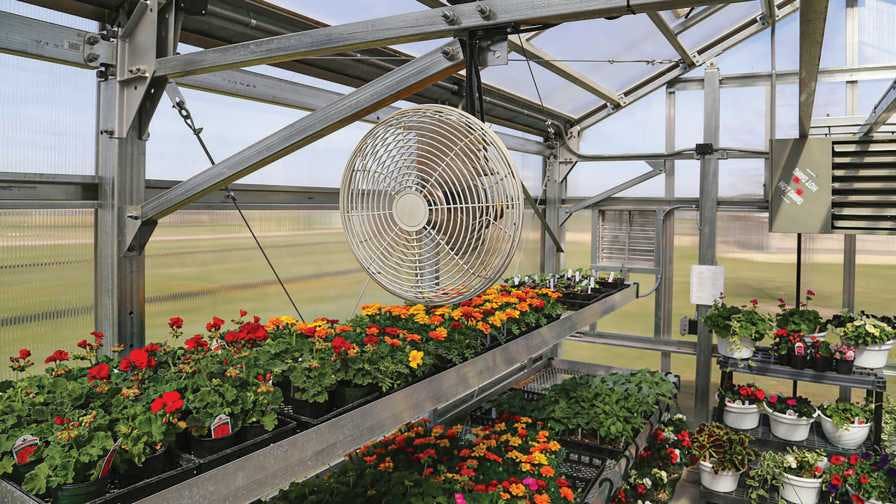 Greenhouse fans
Hydroponics/Aquaponics
In some instances, the water features that are used in passive heating can be in the form or Hydroponics or even Aquaponics. These systems use a water circulating process to direct water to plants while the plants help absorb nitrates from the water. Aquaponics is basically a Hydroponics system that incorporates live fish in the system that adds waste and nitrates which eventually feeds the plants. This system effectively grows plants without too much intervention and is a good water saving technique as well.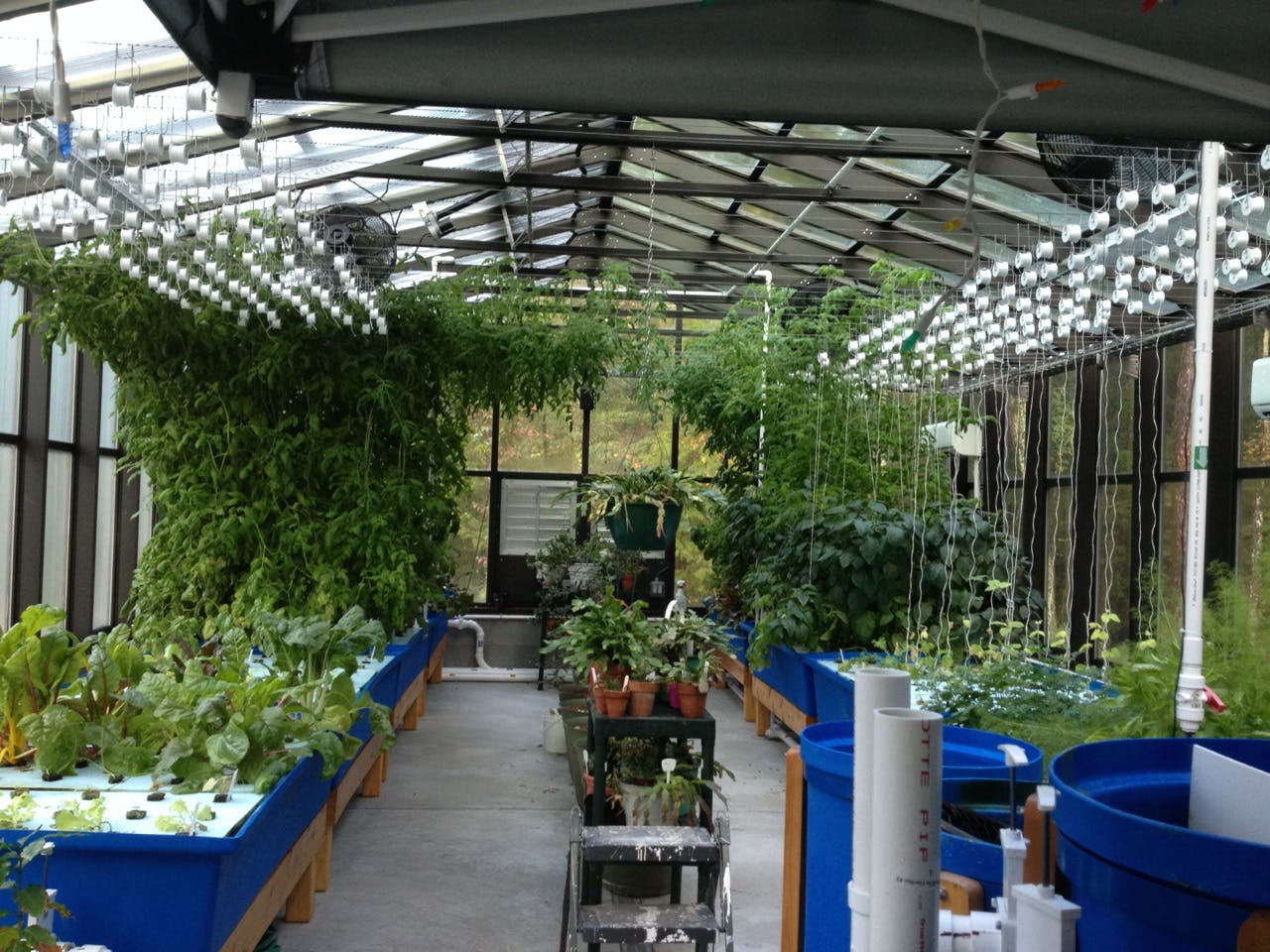 hydroponic system
Greenhouses can be a great resource to have and expand your gardening portfolio. Not only do they add another feature to the garden, they add many levels of functionality. The advantages of a greenhouse , just like the crops it provides, are for everyone to reap.